2014 NY
Since the Thirties there have been ties between the Frank and the Sittig/Van der Sluijs families. Dorrit Sander née Frank one of the main characters of the book The Frank Family That Survived passed away June 14th, 2014. She was buried June 18th. Unfortunately we were not able to attend the funeral. Instead we visited Dorrit's family a few weeks later.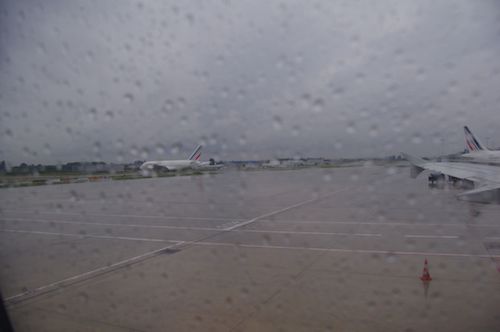 We flew from Düsseldorf to a rainy Paris, where we changed planes to New York JFK.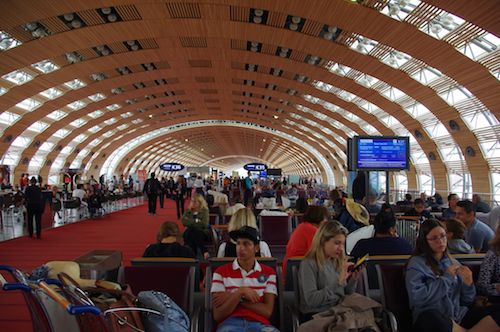 Some 100 minutes waiting at Charles de Gaulle airport.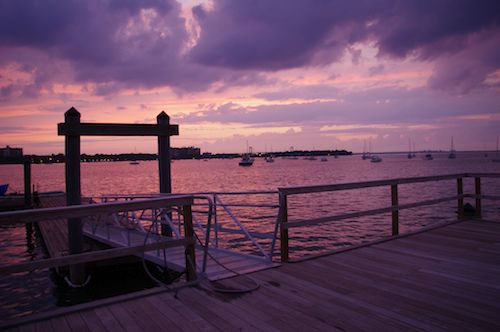 After our arrival in NY, Lee, one of Dorrit's two sons, met us at JFK and showed us around in Douglaston. Here is the beach club "Douglas Manor Dock". You wouldn't believe you are so close to a megacity.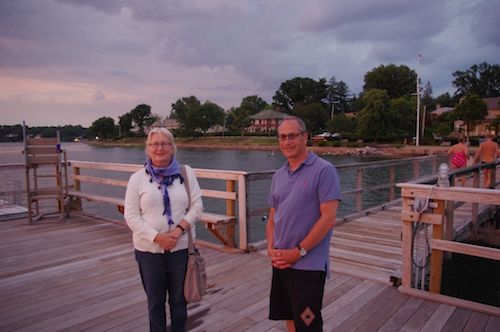 About sunset. The temperature is still oppressively hot.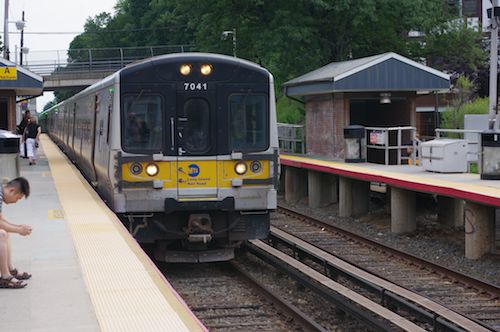 From Douglaston to New York City is an excellent rail connection, operated by the
LIRR
, the Long Island Rail Road. Douglaston Station - Pennsylvania Station: 25 minutes.
The trains are modern and clean.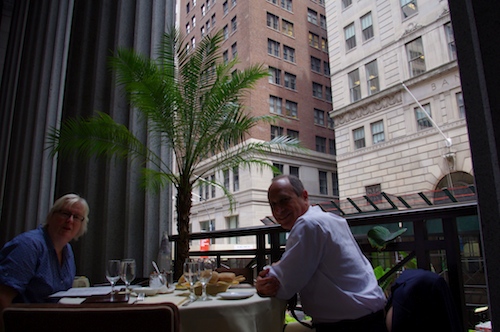 Lee takes us to lunch at
Cipriani
Wall Street.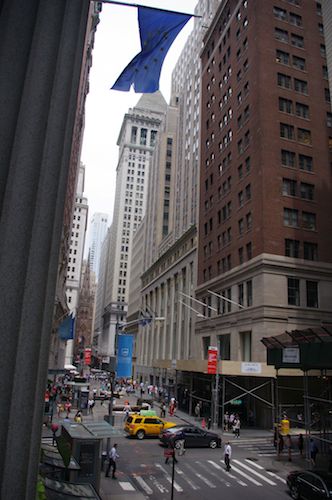 High above Wall Steet we see the European flag! But then, Cipriani originates from
Harry's Bar
in Venice, Italy.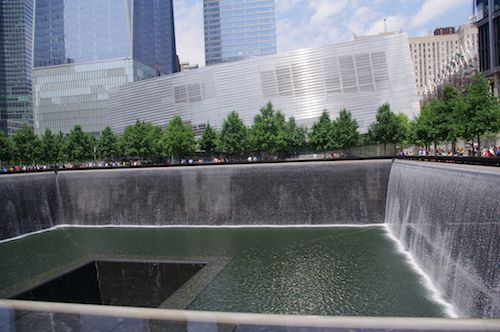 Here we visit the 
9/11 Memorial,
an impressive monument, called "Reflecting Absence", designed by the Israeli-American architecty 
Michael Arad
.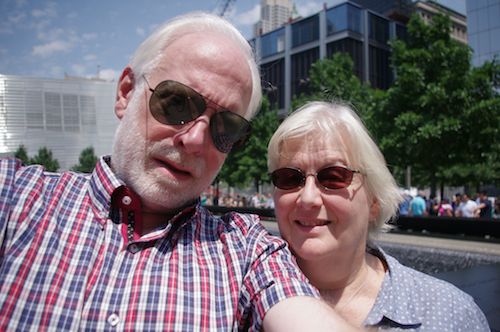 What is the plural of "selfie"?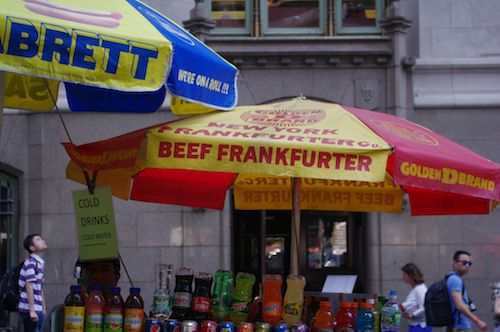 In the States beef is more common than pork! Ideal country!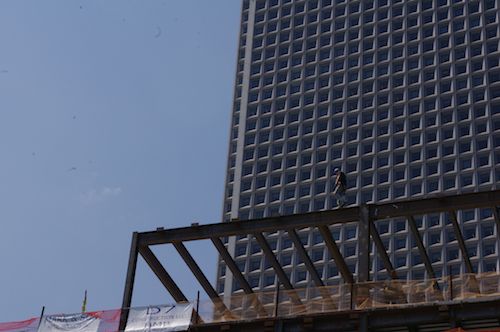 Construction worker without fear of heights... In most European countries Unions and Labour Inspection would never allow this!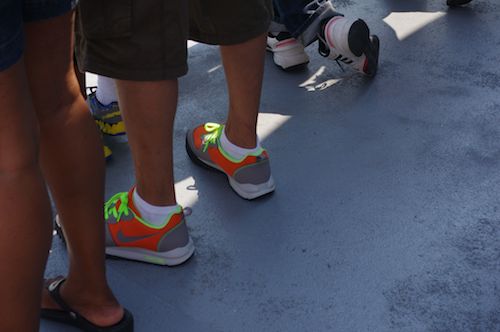 Shoe fashion 2014. I can be glad to be colour blind ;-)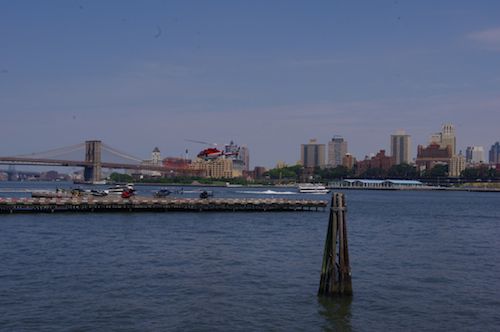 Ferry to Governor's Island.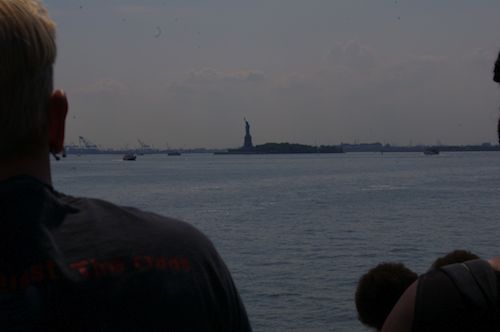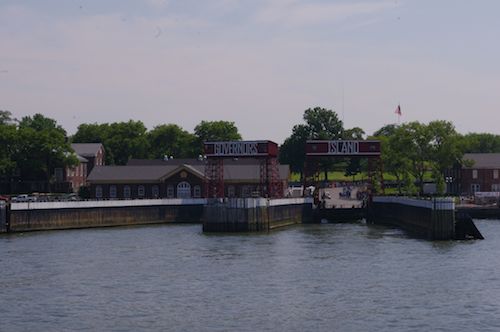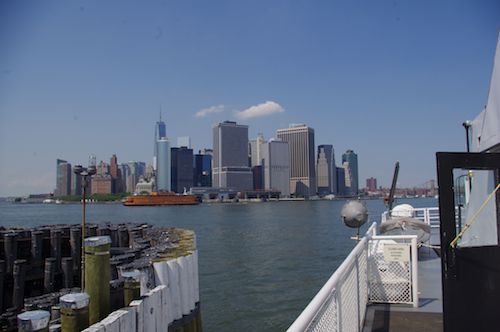 View from Governor's Island landing, across Hudson River, on Brooklyn.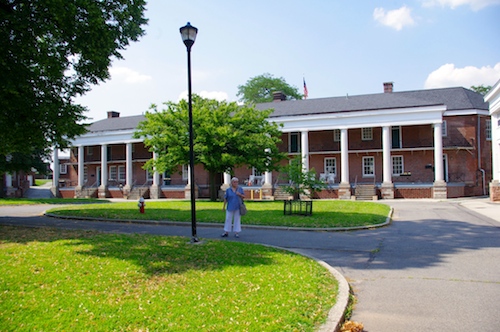 Former military installations on Governor's Island. Thursday afternoon, the island was almost deserted, which was quite alienating.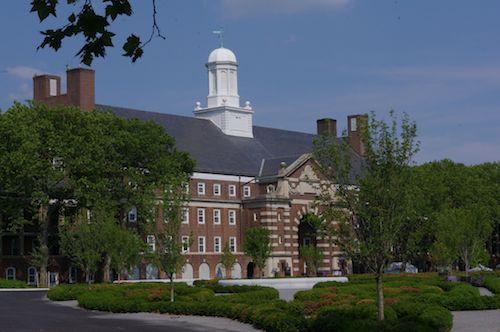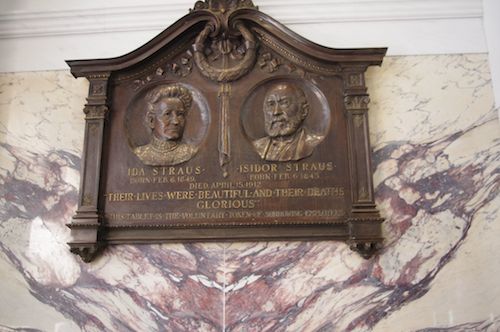 Memorial plaque for Ida and Isidor Straus in Macy's department store in Manhattan. The Strauses co-owned Macy's since 1895. Ida and Isidor died on April 14, 1912 when the Titanic sank.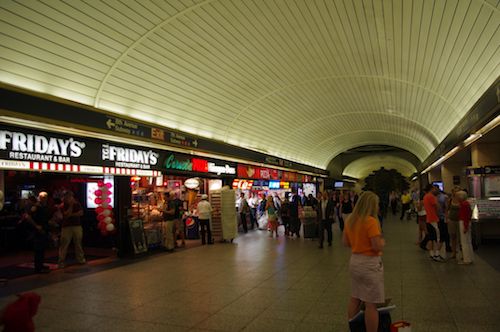 Penn Station has lots of shops and restaurants to offer.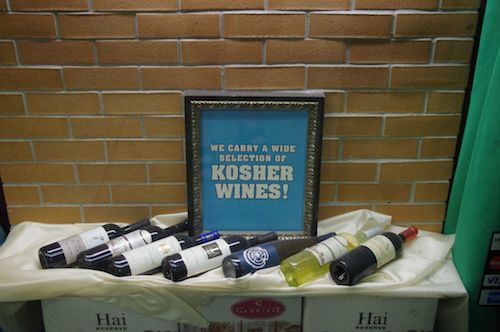 Being Jewish in the USA is not exceptional.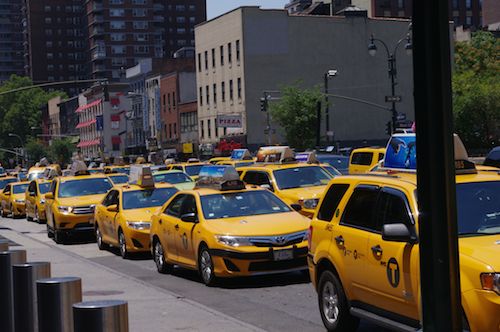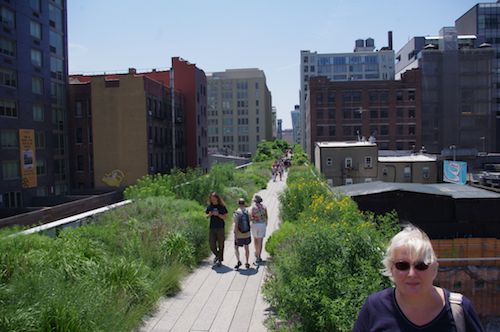 A railway freight yard which was no longer in use, is transformed into a beautiful park, the
High Line.
The garden design is done by Dutchman
Piet Oudolf
.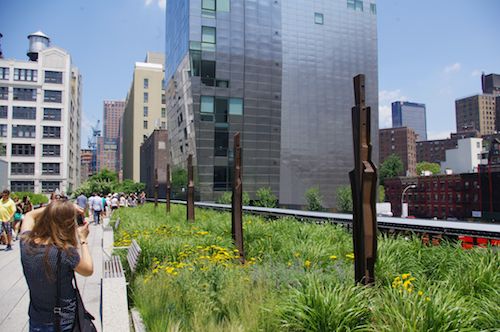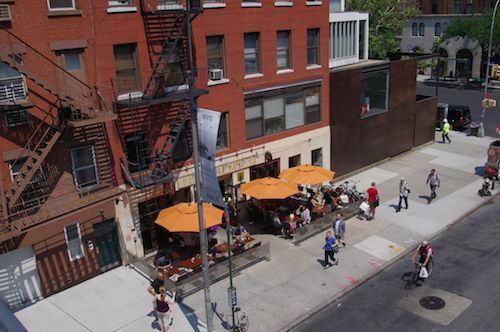 Halfway our walk along the High Line, we have lunch at the 
Half King
.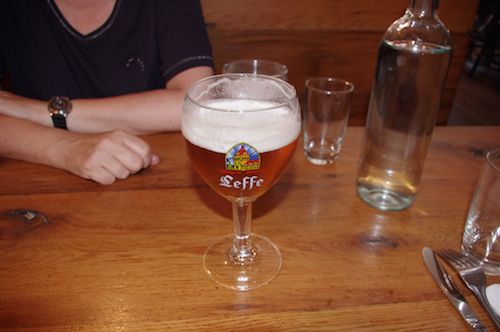 An old friend, from our Flemish period.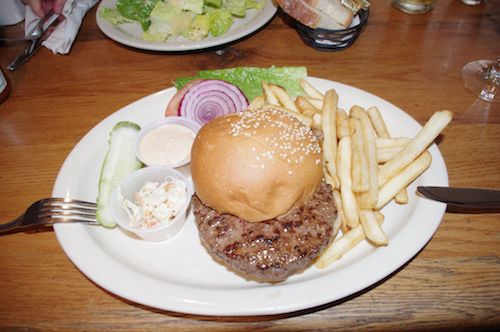 And a grown-up bison burger!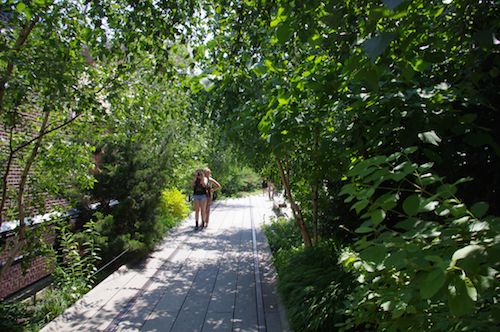 We continue the walk south.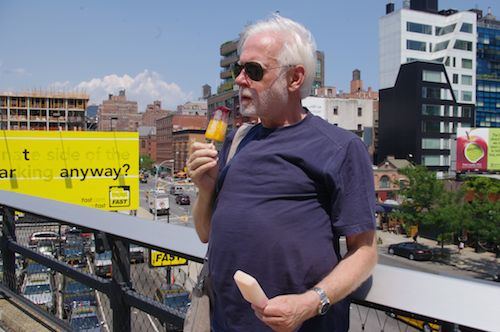 An artisan p
opsicle, for some reason called Mexican.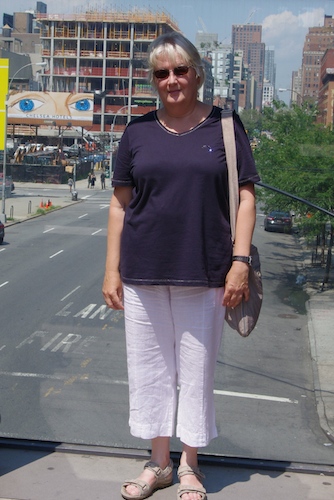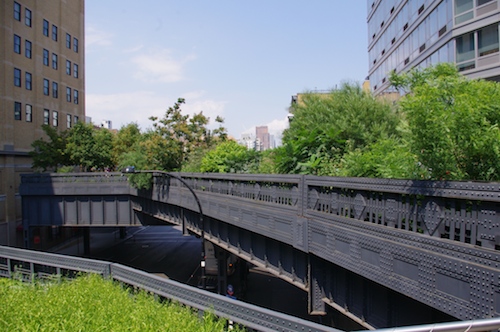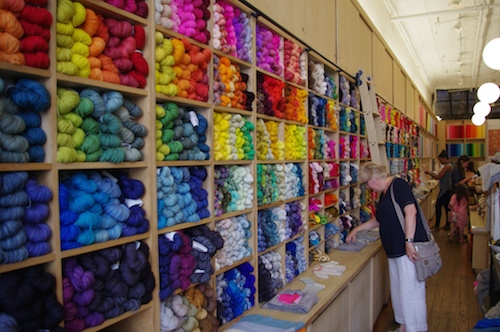 Sylvia - who is a bit of a yarn addict - enjoys her visit at 
Purl 
Soho.
Kmart
 in the connecting concourse on the lower level of Penn Station offers an incredible variety of Jewish greeting cards.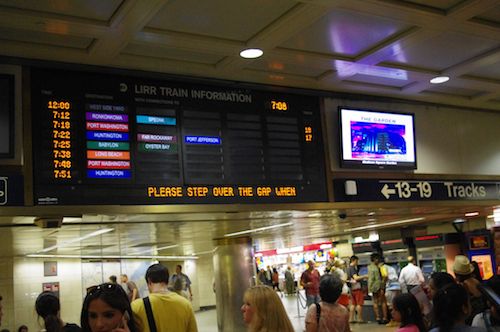 LIRR trains don't have their own fixed platform. So everyone is watching the display. As soon as a train is shown, there is a great rush to the platform. One has only a few minutes before departure.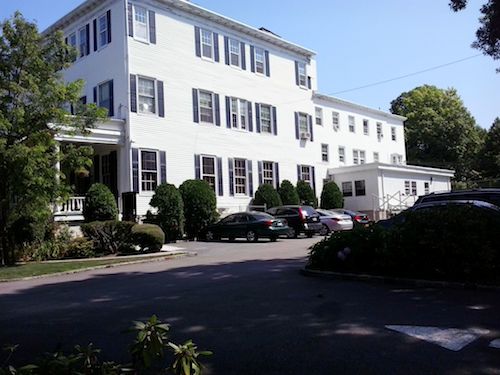 Friday night we have an early meal with the Sanders at The Douglaston Club.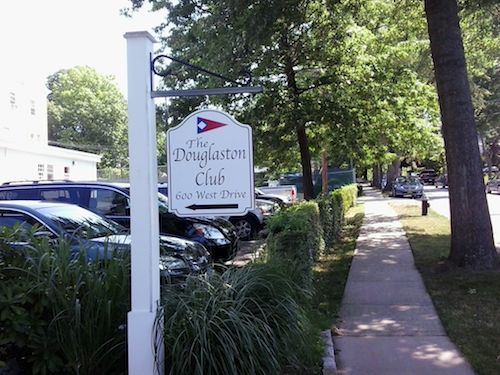 After dinner we go with the family to 
Temple Tikwah
, where Kaddish is said for Dorrit.  
Like our own shul, Temple Tikwah does not have weekly services in Summertime.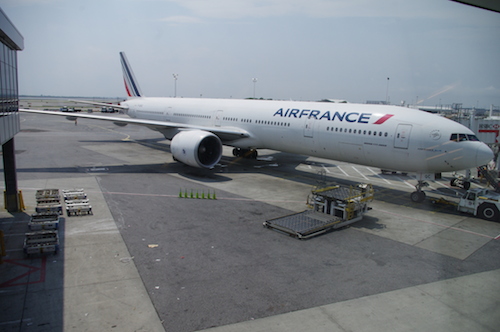 On Sunday this 757 brings us from JFK to CDG. This time, the order for two kosher meals has come through.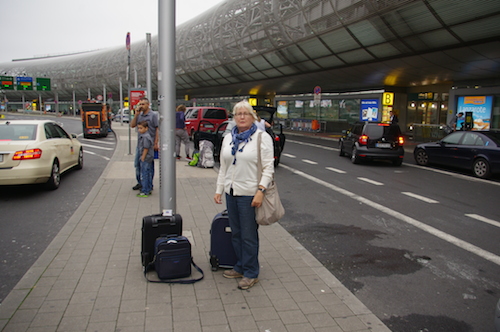 Arrival in Düsseldorf. Within five minutes we are picked up by the
VIP Parken
shuttle. Two hours later Motek is beside himself with joy when he sees us again.