2023 Normandy Brittany III
First section on first page (click)
Previous section on second page (click)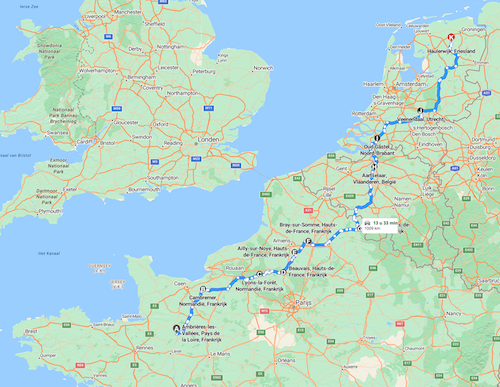 The blue line indicates our return journey.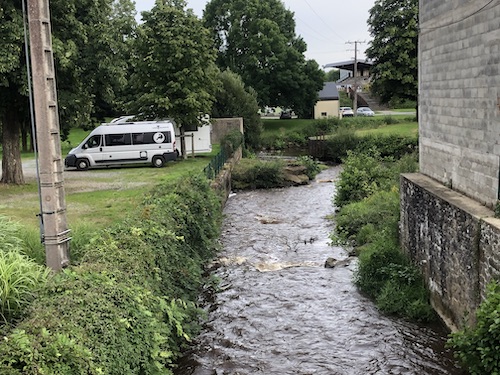 In Gorron, we park in a public car park specifically for motorhomes. We can fall asleep to the murmur of a stream.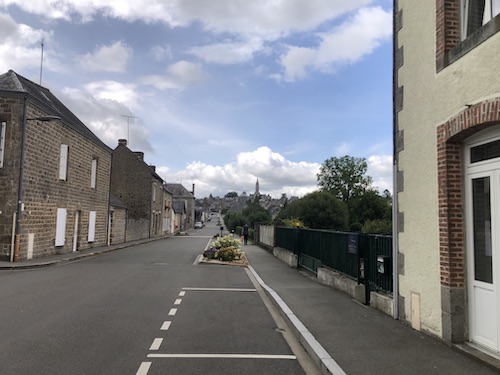 A long, straight road leads from the overnight stop up the hill.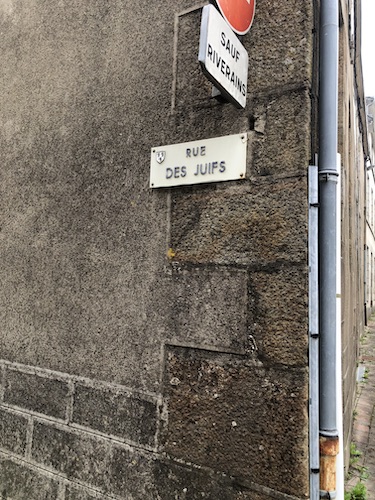 Only a street name shows that Jews once lived here, too.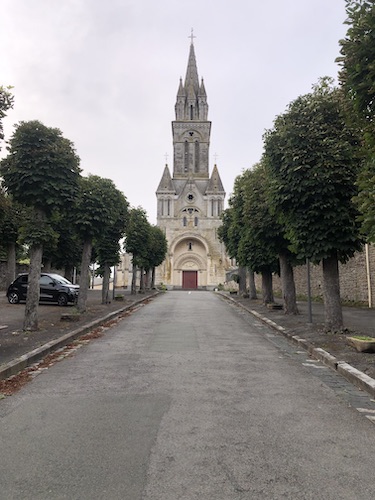 After a brisk walk, we reach the church built on the highest point of the town.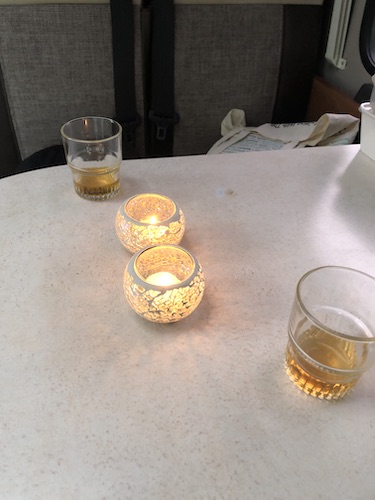 Back in the motorhome just in time to light the Shabbat candles. Since we have run out of wine, we make kiddush with something stronger.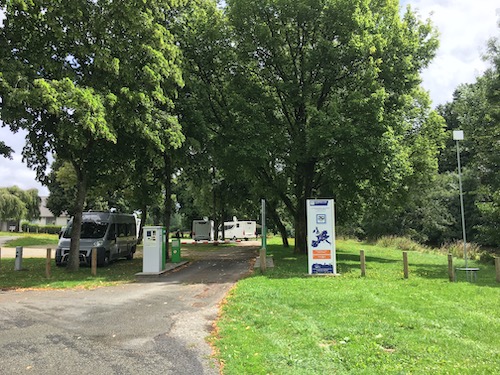 Another motorhome spot: Ambrières-les-Vallées.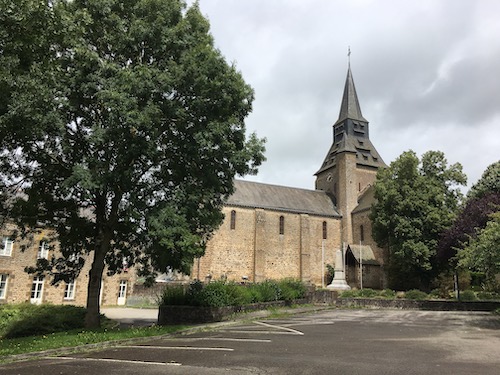 Here the church towers no longer have the Breton open construction, but are rather solid.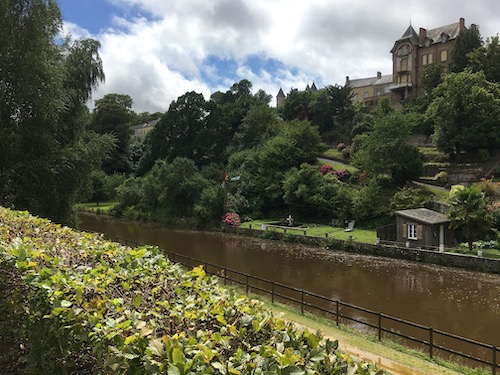 Atop the steep bank are grand villas and an old castle.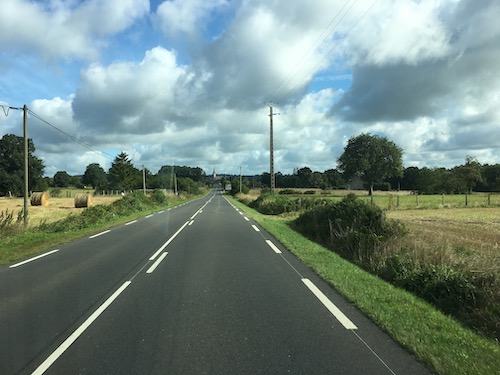 The weather is slowly improving.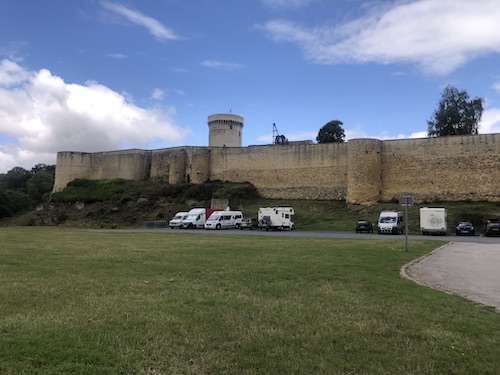 William the Conqueror's castle in Falaise is a tourist attraction. Spending the night there in camper vans is not allowed.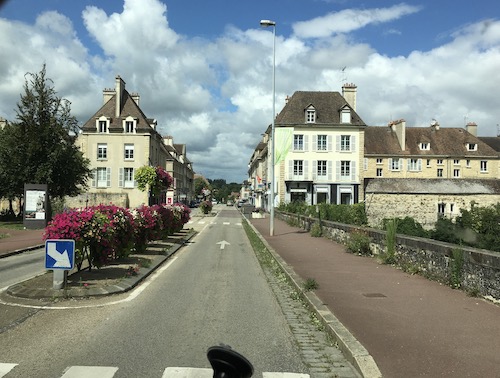 Street view on leaving Falaise.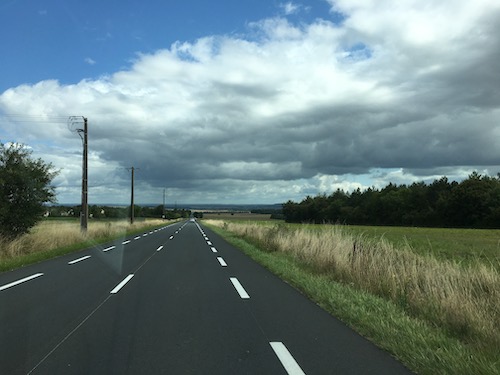 Good road (for a change) and blue skies.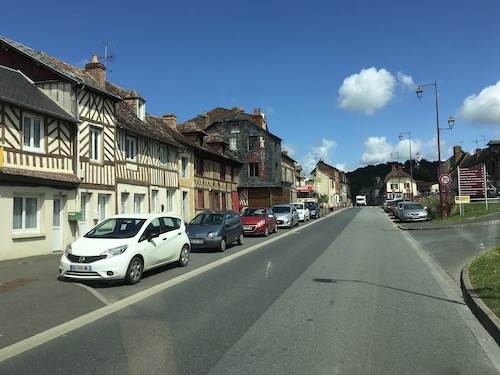 Back in Normandy. Half-timbered houses again.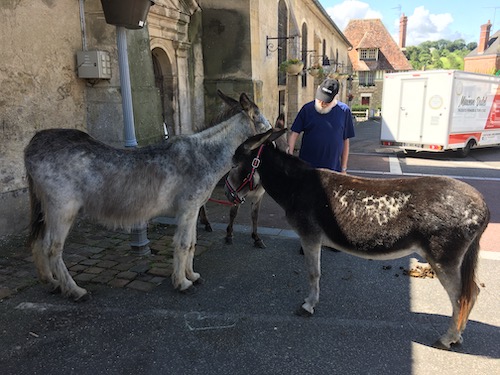 When we enter the Cambremer market square, the festive market is just over. The donkeys stand patiently waiting to be allowed back to their pastures.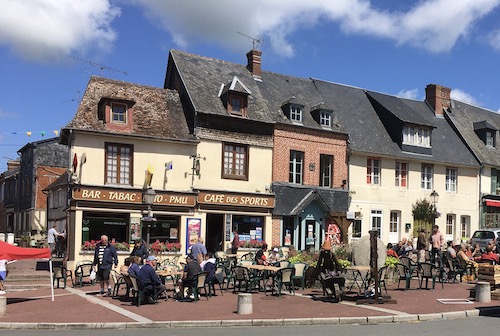 Fortunately, the café, cum betting shop, is still open ...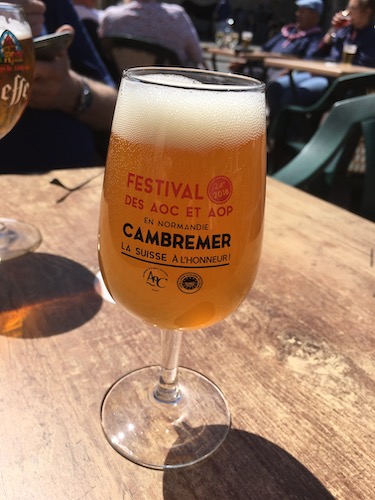 ... to serve us a large beer on tap and a cool glass of cider, a local speciality.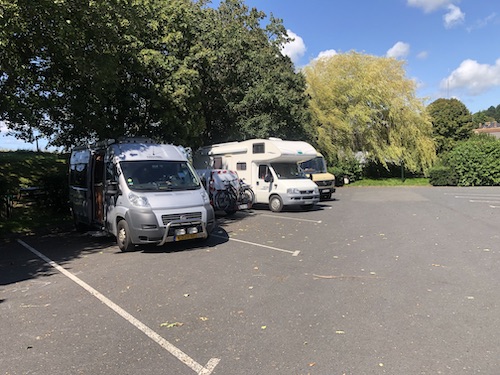 The Cambremer City Council understands that overnight campervans mean turnover for the catering industry and various shops.  By sundown, the square gets quite full.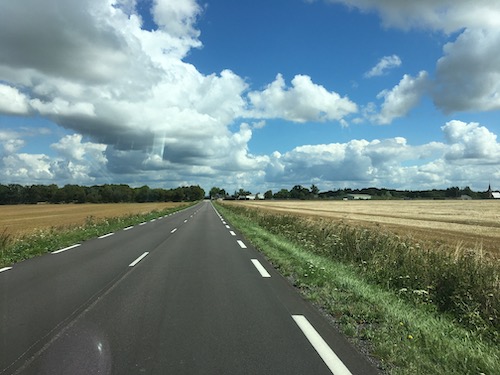 A smooth road to Lyons-la-Forêt. Emptiness all around.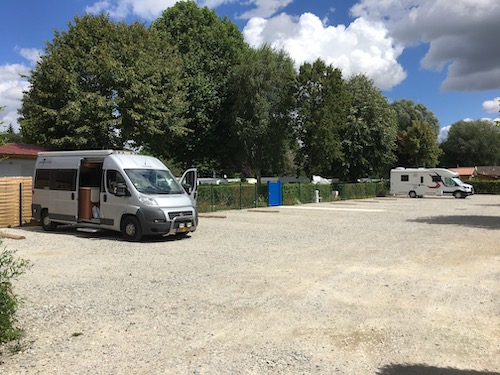 In Lyons-la-Forêt CCP has taken over a narrow strip of the Camp Site St. Paul. The camp site, with its many mobile homes, makes a depressing impression on us. Still, they serve nice ice cream :-)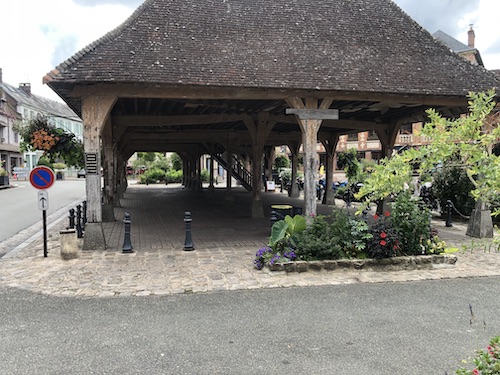 Lyons-la-Forêt's main attraction turns out to be its ancient covered market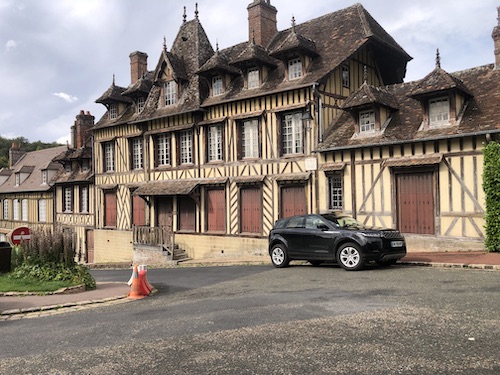 And this is the house where Maurice Ravel lived and worked in the early 20th century.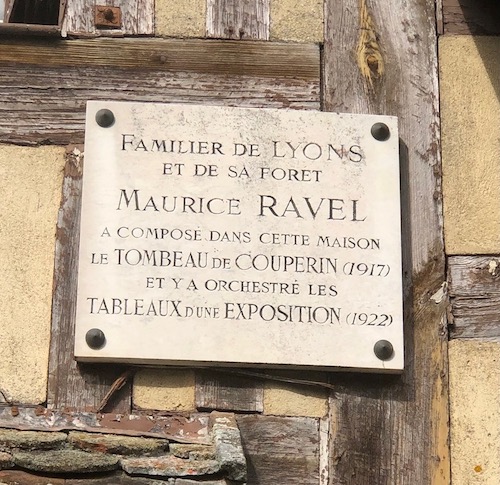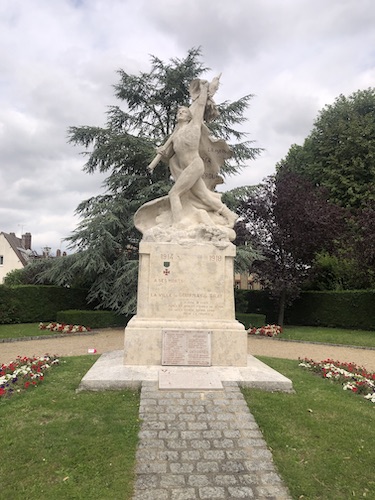 In every French town there is a monument in memory of the fallen in the war. In the first place, World War I (1914-1918) in France called "La Grande Guerre", usually extended with a list of fallen in the war of 1939-1945.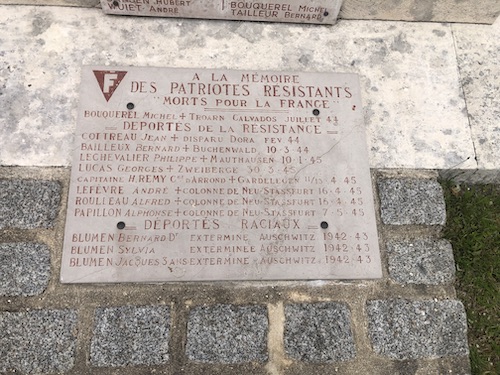 In this case, also extended with the names of deported resistance fighters and Jews.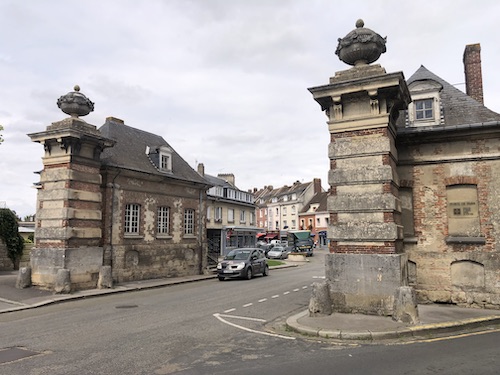 This is the Paris gate in Gournay-en-Bray, a slightly bigger town, with the matching desolation.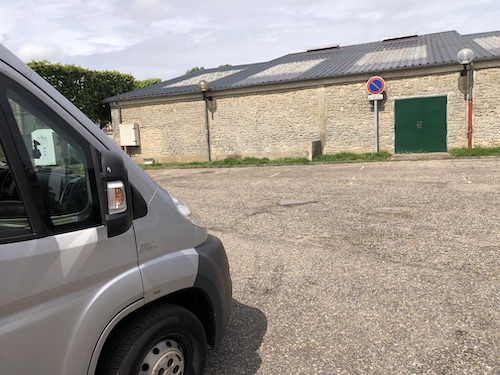 This overnight spot, found in our faithful Bordatlas, is so dreary that we decide not to spend the night here.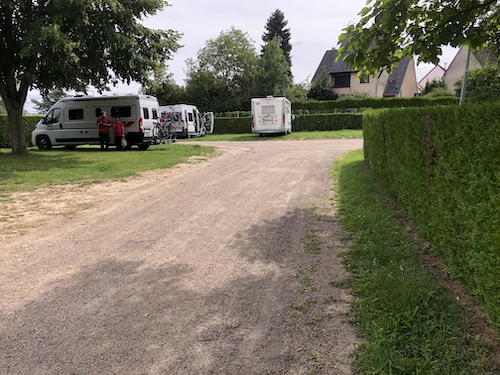 So we go on to Beauvais. There is no electricity, which doesn't affect us, because we have invested in a high(er) capacity lithium battery, which keeps us going for several days.

En route we encounter the Marissel French National Cemetery. It remains hard to grasp how many people were killed in the "great war".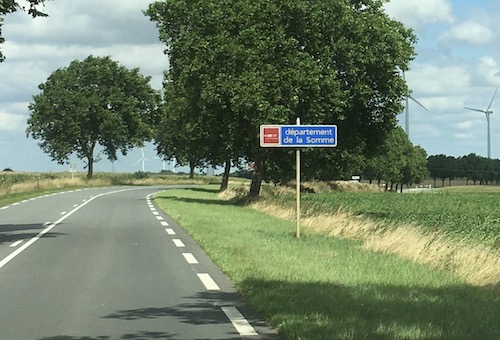 Slowly driving north, we enter the Somme department.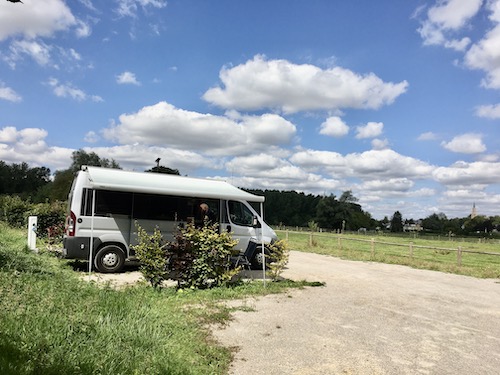 This is our pitch in Ailly-sur-Noye. First time we use the awning against the sun.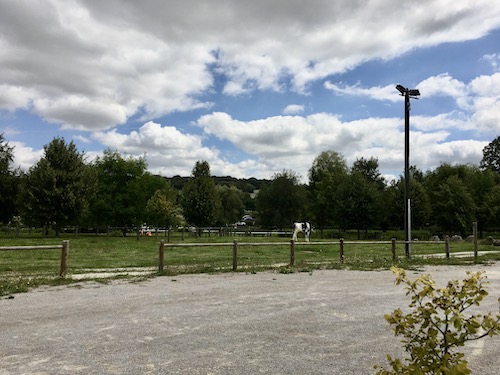 Excitement and thrills all around: a heifer has decided to go out into the wide world.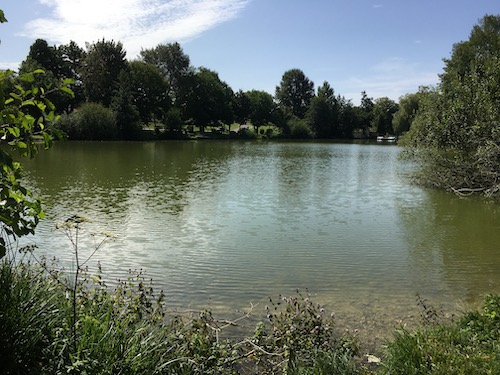 Sylvia discovered another romantic pond on her walk. On the horizon are two pedal boats.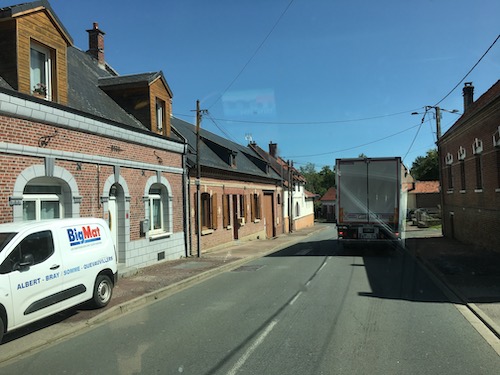 Typical northern French cottages.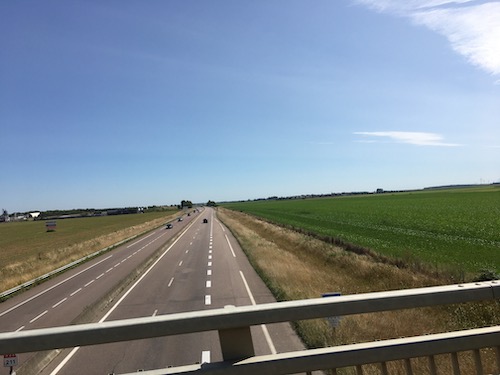 We cross the Autoroute. By the looks of it, not many people feel like paying tolls.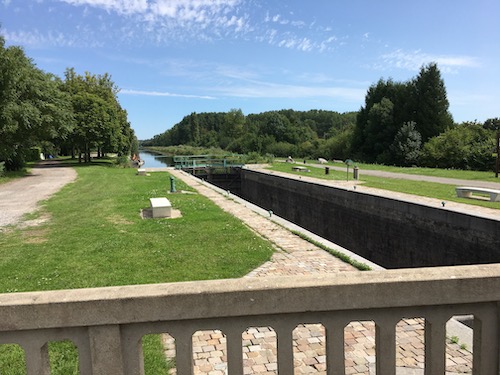 To make the Somme navigable, a narrow section is routed through a lock.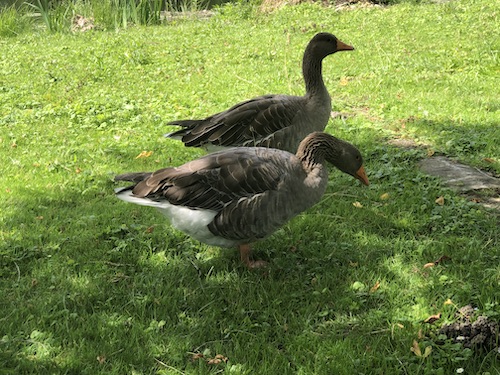 The motorhome site in Bray-sur-Somme is an angler's paradise. Several dozen geese also scurry around.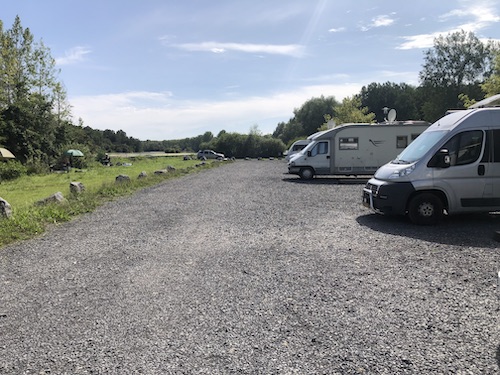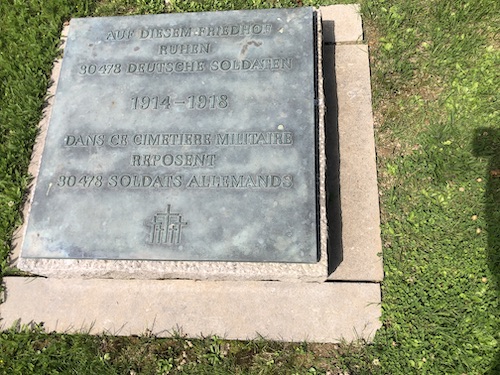 Maissemy German military cemetery has 30 478 (!) German WW1, soldiers buried, sometimes six under one headstone.  At the cemetery near Arras another one and a half times as many!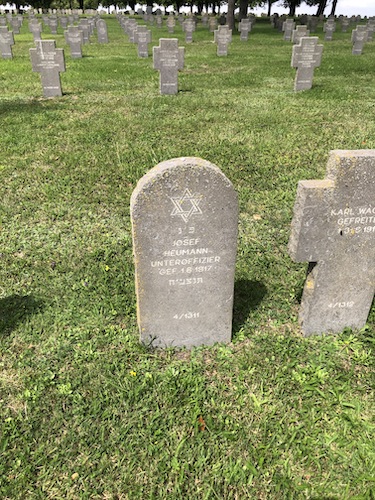 In the German army of 1914, Jews and Christians fought (and died) side by side. How different the world looked 20 years later! We have yet to find out whether this non-commissioned officer Josef Heumann was a relative of Sylvia's.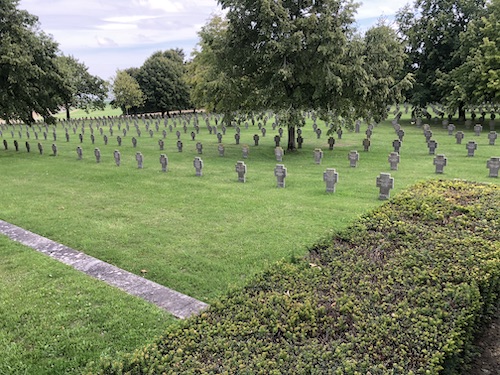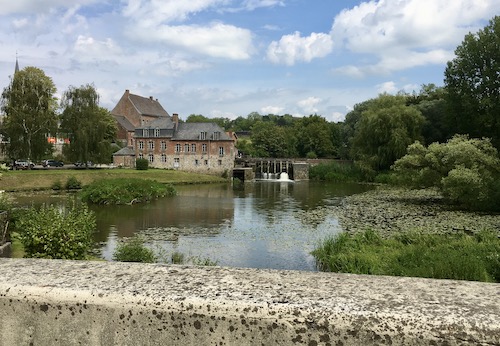 The Maroilles water mill.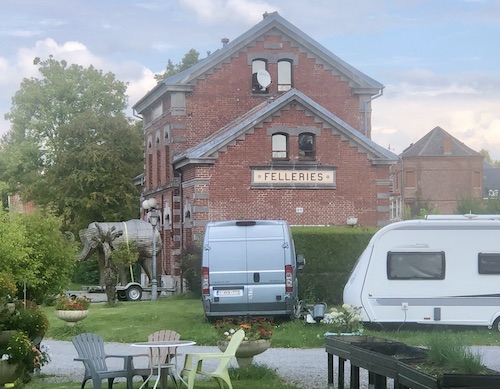 The motorhome site of Felleries is in the old station yard.
We were here in 2017, with a caravan. Then it was a well-equipped municipal camping. We travelled by automatic car with caravan because I had my left foot in a cast and couldn't depress a clutch pedal. 
Now the place is taken over by CCP (Camping Car Park), who have 450+ sites, some former camping sites or parts thereof, all exploited in a similar way, same smart card, same procedures, all (?) Wi-Fi, all water and electricity included. Felleries has lots of flowers and a friendly atmosphere....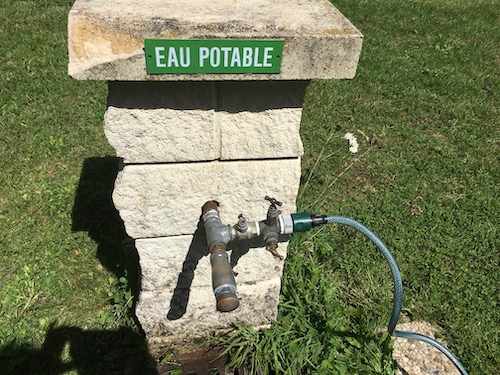 Although most Camping-Car Park sites are updated with card readers for access control, a standardised discharge point for grey and black water, columns with electricity outlets, a drinking water connection, and a Wi-Fi mast, in Felleries, the old fresh water tap is still there. Works just as well (if you carry the right adapter nipples).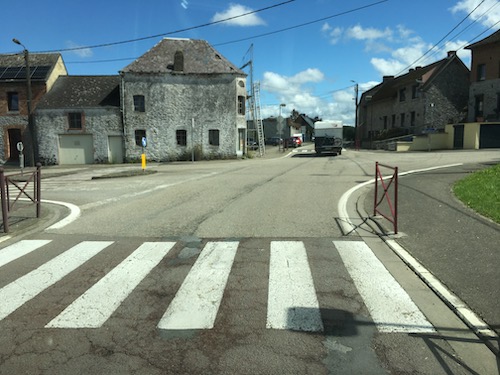 Grandrieu in Wallonia, the French-speaking part of Belgium.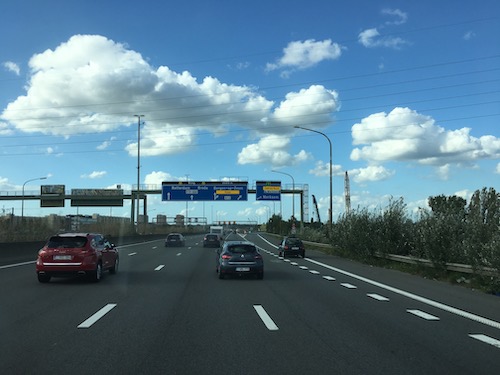 The Antwerp Ringroad.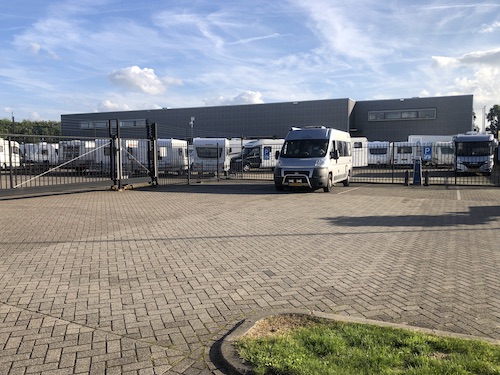 Like on the first night of our trip, we enjoy the hospitality of motorhome and caravan firm
Mobiledrôme & Partners
in Oud-Gastel, not far from the Belgian-Dutch border, on the last night. We are not the only ones, this is a popular place!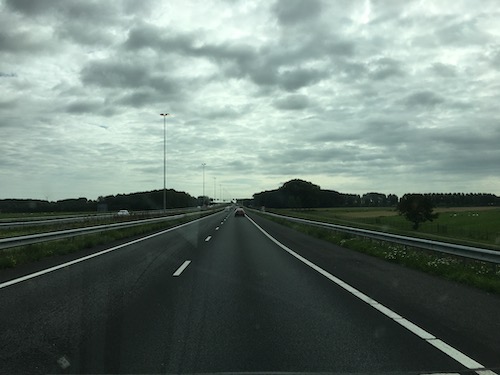 After more than three weeks of French and Belgian asphalt and macadam, the Dutch highways are a breath of fresh air, even if the speed is limited to 100 km/h during the day.
In Veenendaal, only two hours from home, we pick up the little motorbike and lash it under the bed in the van.
Without any problems, we arrive home during the afternoon. This holiday trip is over again.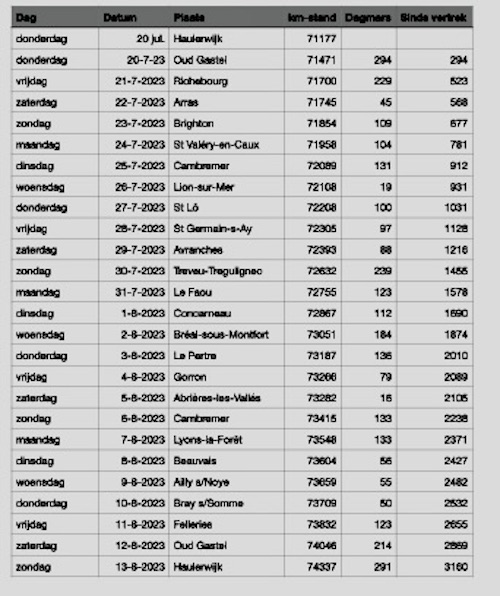 Go to top of page