2010 Halle
Het tweede weekend van april was Skoolie's maiden trip naar het treffen van, voor en door bezoekers van Campertechniek.eu.
Skoolie's first trip, now that we have the documents in order, took us to a meeting of some 17 visitors of the DIY internet forum Campertechniek.eu (sorry, 95% in Dutch).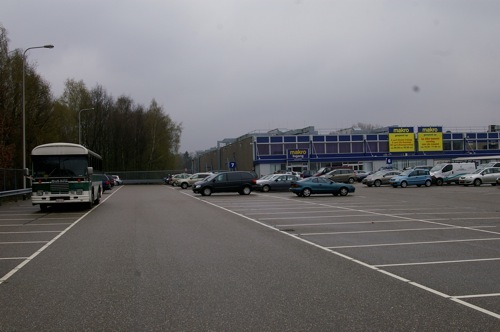 We proberen de brandstof zo efficiënt mogelijk te gebruiken en doen dus en route wat achterstallige boodschappen, zoals hier bij de Makro in Best (NB).
In order to get most out of our gallons, we always try to combine some necessary shopping with our leisure trips. Condition is a large enough parking site. No problem at this branch of Makro (Metro).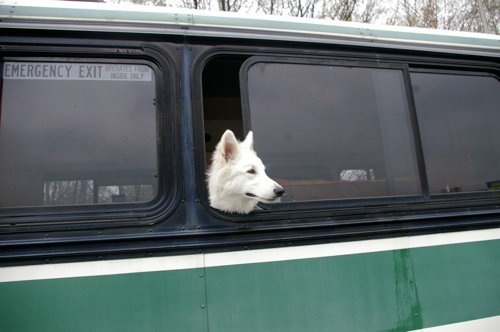 Zolang Sylvia bij de Makro binnen is, zit Motek gespannen op de uitkijk, wachtend op haar terugkomst.
While Sylvia is shopping, Motek is anxiously on the look-out for her return.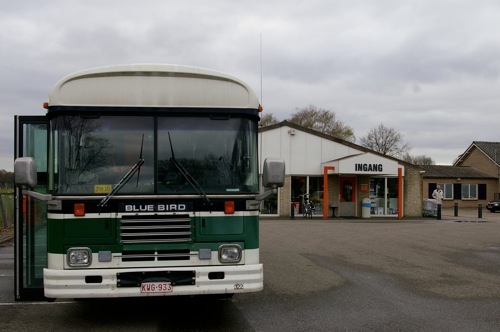 Bij De Wit in Schijndel hebben we een passende fietsendrager aangeschaft (overjarig model, -/- 50 %).
At this shop in RV accessories we bought a discount bicycle rack.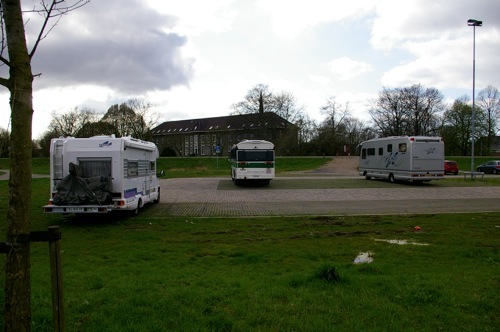 GOP in Huissen. Goed bereikbaar, ruim, vlak en keurig geplaveid.
The first night we sleep at this special motorhome site in Huissen on the river Rhine.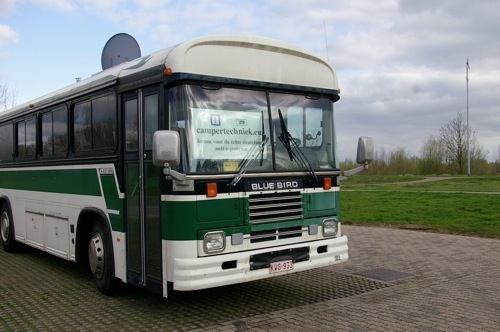 N.a.v. een beetje reclame voor het forum meldde een andere camperaar zich. Het werd een heel boeiend en gezellig gesprek.
Nothing wrong with some free publicity for our forum.

's Morgens de grill in ons gasfornuisje voor het eerst geprobeerd...
Testing the gas grill in our little oven for the first time...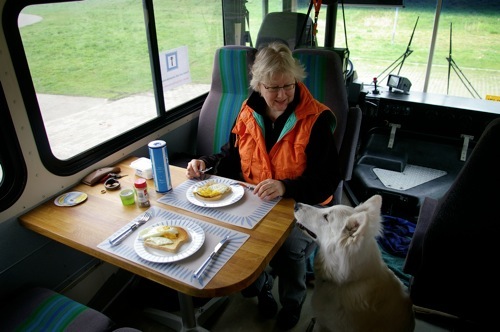 ... hetgeen resulteerde in een subliem spiegelei op toast.
... provided us with first class eggs on toast.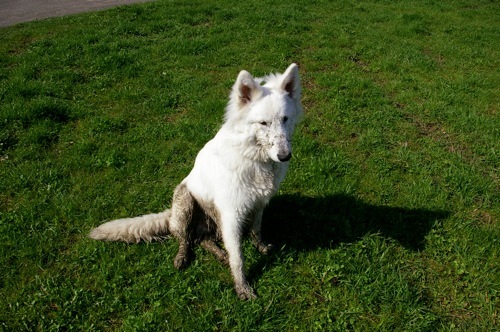 Naast de GOP in Huissen is het behoorlijk drassig. Motek vindt dat niet zo erg.
Motek doesn't mind the fact that the surroundings are a bit muddy.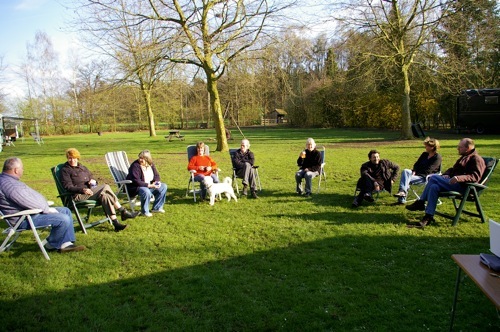 Op Natuurcamping Hessenoord in Halle druppelen vrijdagmiddag de deelnemers binnen. Voor velen krijgen virtuele namen nu voor het eerst een fysiek gezicht.
On the camping ground in Halle, our destination for the weekend, the participants arrive, one after the other. Many people who used to know each other only through the web, now see each other for the first time in real life.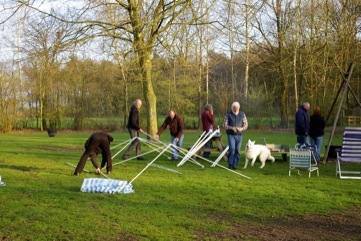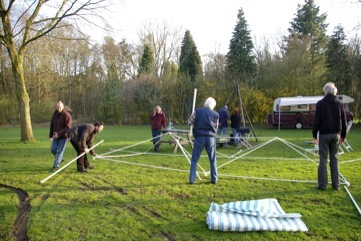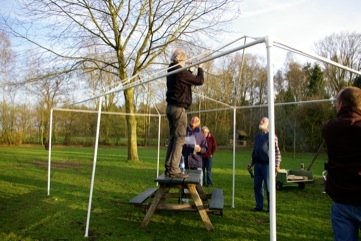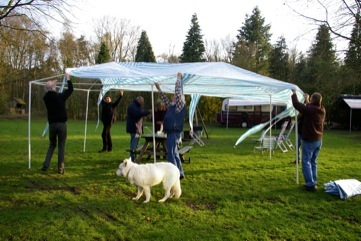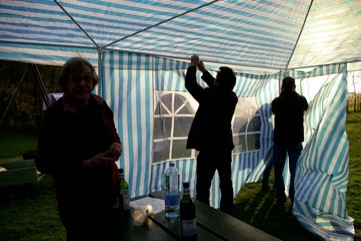 Vele handen maken licht werk. Net voor donker staat de tent. Let op Motek die ons voortdurend voor de voeten loopt om toch maar dicht bij zijn baasjes te zijn.
The last daylight helps to finish putting up the tent. That night we'll use it extensively! Motek has been watching the proceedings.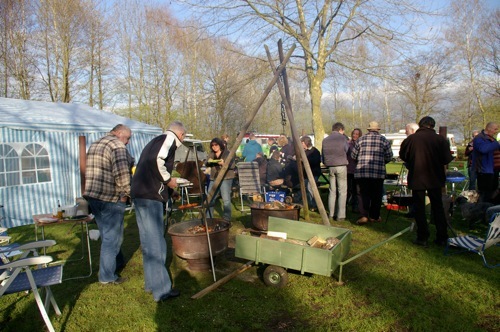 Zaterdagavond werd er een grootse barbecue gehouden, waaraan veel mensen een bijdrage hebben geleverd.
Some pictures of the great barbecue on Saturday night.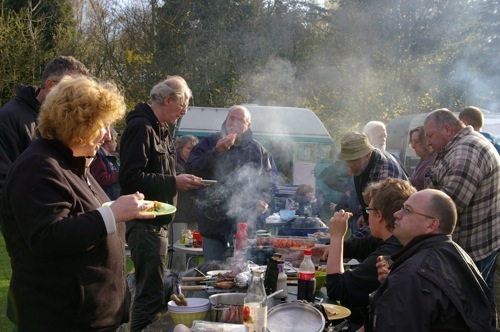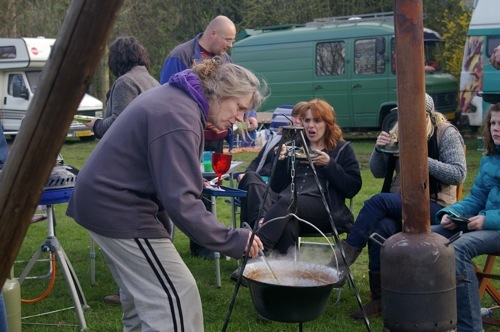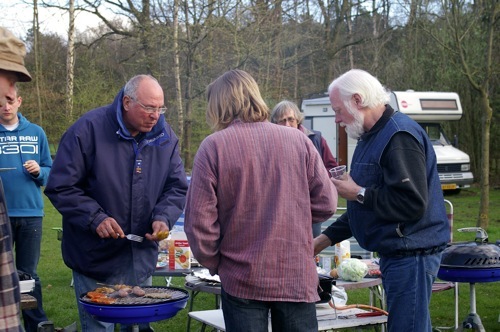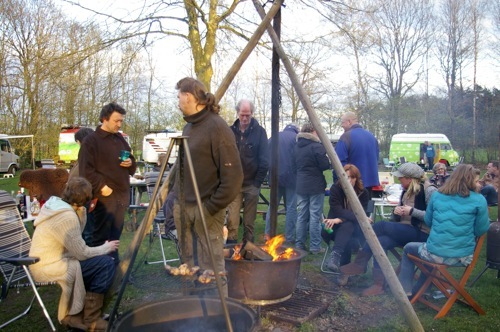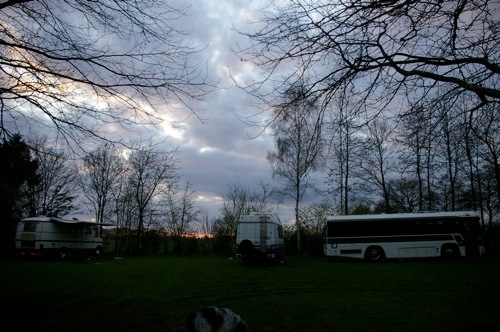 Zomaar een plaatje van de zonsondergang op zaterdag.
Impression of Saturday's sunset.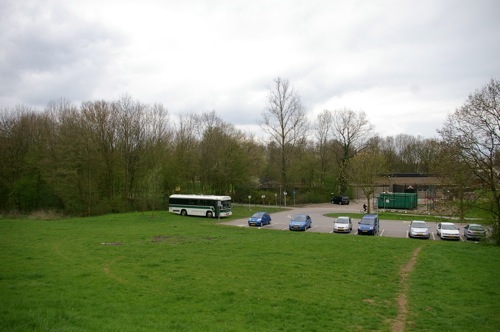 Zondagavond: in Millingen aan de Rijn weer een prima GOP. De vuilnisbakken worden 's morgens keurig geleegd. Jammer dat wat ernaast gegooid is, gewoon blijft liggen.
Another motorhome site on the Rhine dyke on Sunday night.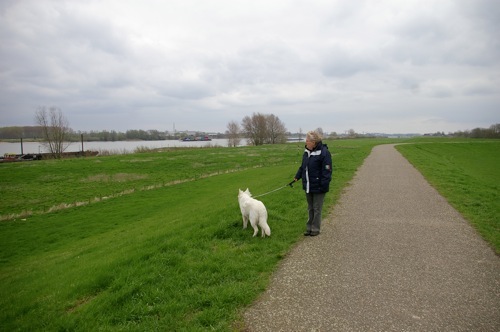 Weids vergezicht over de Rijn.
Motek seems to enjoy the scenery.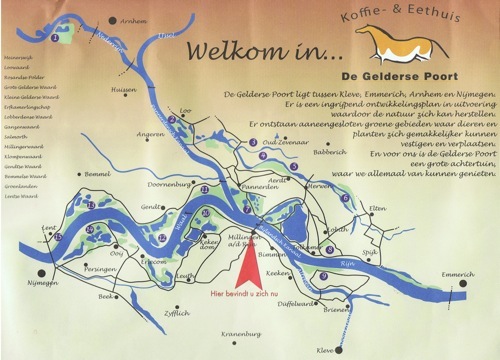 Staatsbosbeheer exploiteert hier een bezoekerscentrum met restaurant.
The National Forest Service in the Netherlands has a restaurant on this spot. They serve excellent beef of their own (wild) cattle.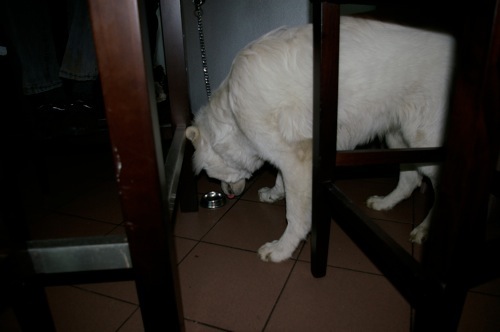 Het summum van gastvrijheid: speciaal voor de viervoetige gasten: een amuse gueule in een speciaal mini-etensbakje.
Visiting dogs are offered a dog snack in a special mini bowl. The utmost hospitality!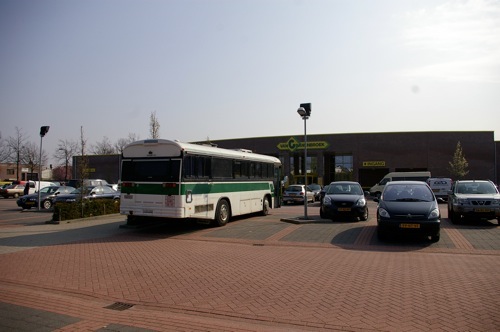 Bij Van Cranenbroek in Schijndel nog een paar inkoopjes gedaan.
One more shop stop on the way home.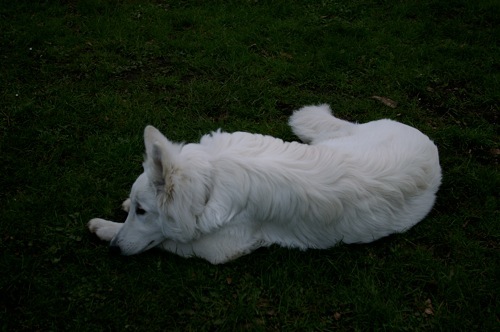 Eén uitgeteld hondje na een prima weekend!
One exhausted pup after a terrific weekend.