2023 Normandy Brittany II
Previous section on first page (click)
Last section on next page (click)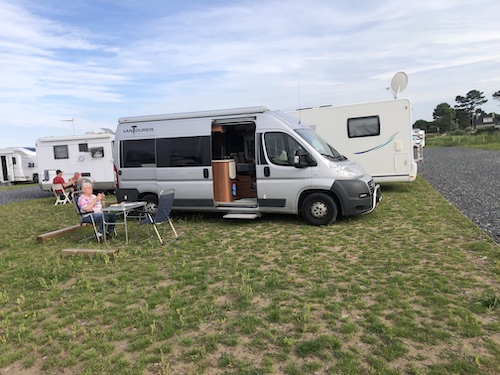 CCP site in Saint-Germain-sur-Ay. This is the very first time during this trip that we put our table and chairs outside to have dinner.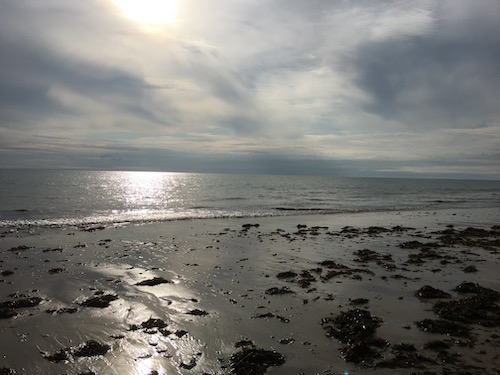 After dinner Sylvia takes a stroll to the beach in the sunset.

The parking next to the beach is not accessible for motorhomes. Like in many places they have put barriers on 2 m height to prevent travelling people (AKA Roma/Gypsies) to settle there.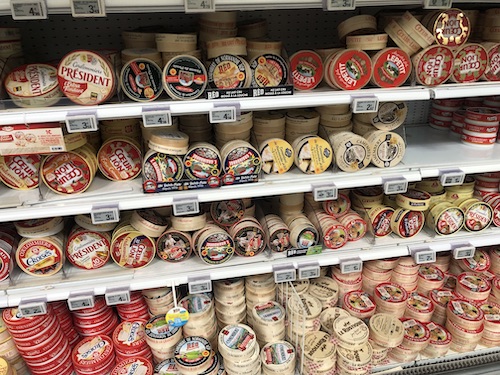 As we know, Camembert comes from Normandy. Hence the Leclerc supermarket sells it as well! Even more than one kind...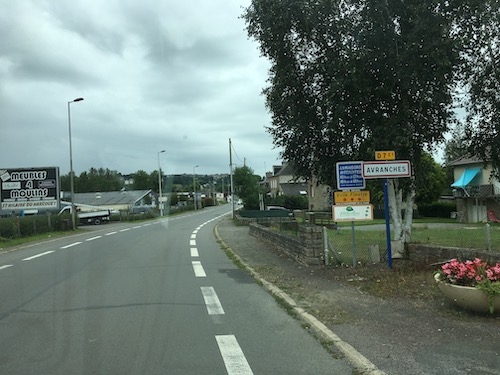 Next day we stop at Avranches, from where the famous Mont Saint-Michel is just visible, due to hazy conditions. When we read how many tourists visit the mountain each day, we decide not to join them.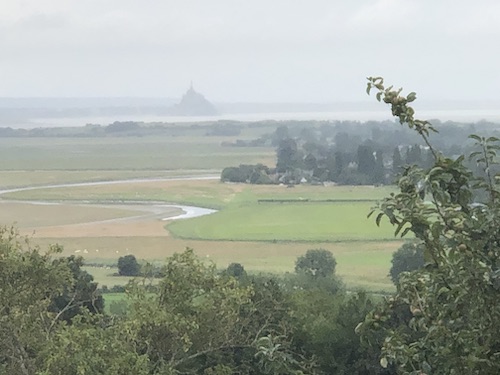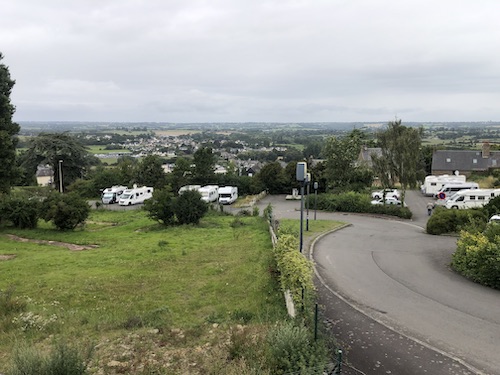 The (free) camper van site is so steep that next morning, when we start the engine to drive off, we get a warning that the brake fluid is low. After depressing the brake once, the warning disappears and doesn't come back. Still we'll drive carefully and top up the brake fluid as soon as possible.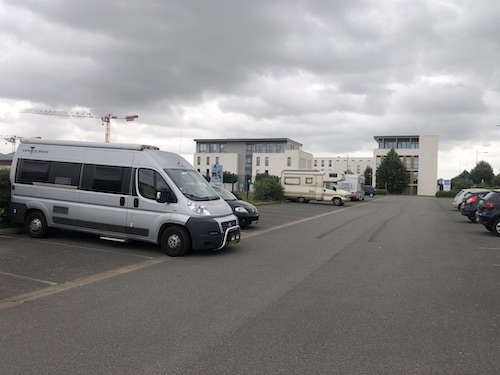 According to our Bordatlas this is one of the recommended overnight places in Saint-Malo. We eat our lunch there, but don't like it enough to stay.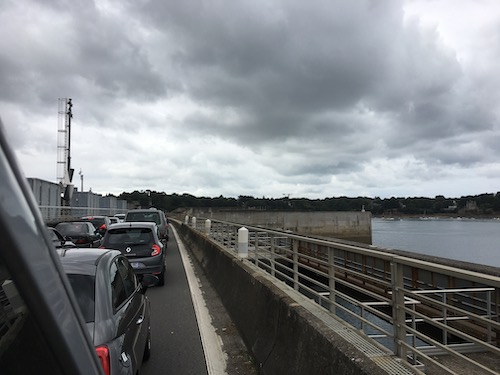 Upon leaving Saint-Malo we have to cross a branch of the Rance river. There only is one bridge, where at this stage is a traffic jam.  After a quarter of an hour, we can continue our journey.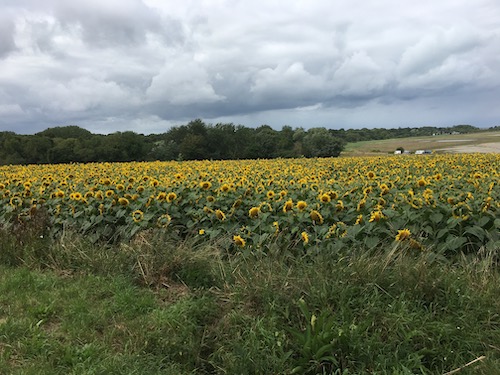 Along the way, we come across a few fields of sunflowers. We rather expected these in more southern regions.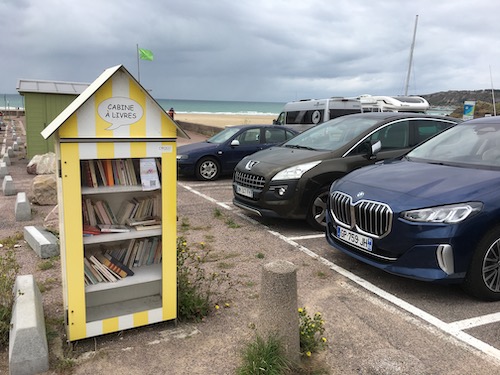 We couldn't find the site which the Bordatlas mentioned for Caroual. It just isn't there anymore! 
It turned out that the place where we spent the afternoon could be left only by driving against the one-way traffic. Again because of a barrier at a height of 2 m, allowing cars to leave, but locking in higher vehicles.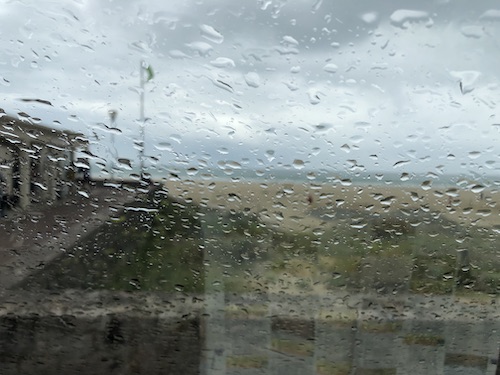 Not surprisingly, bathers are gradually leaving the beach.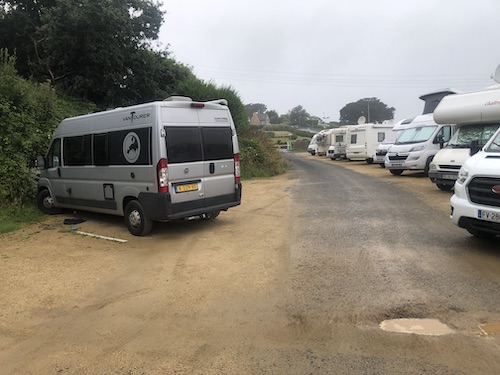 Since we are not allowed to stay overnight in Caroual, we drive on to Trévou-Tréguignec, where there is a CCP site, with Wi-Fi!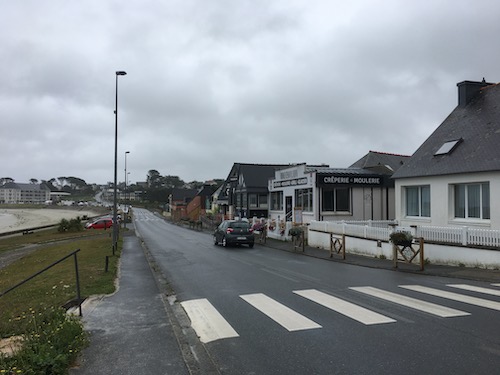 The promenade of Trévou-Tréguignec is definitely more pleasant when the sun shines.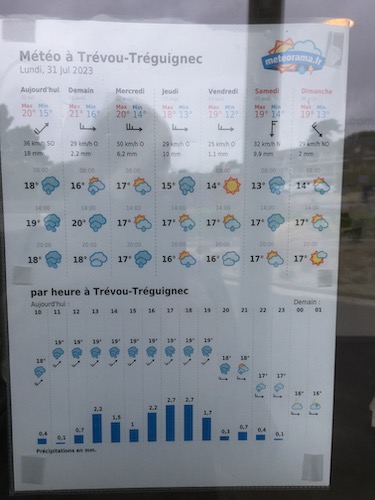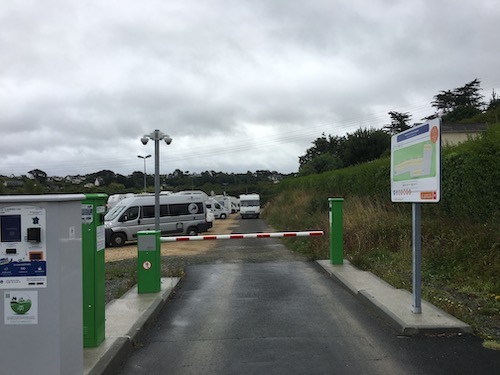 Another CCP site. Because the Wi-Fi doesn't carry all the way from the mast to where we were, we shift to a place near the entrance.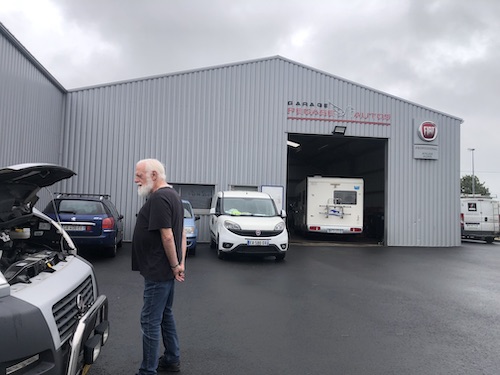 Finally, we find a workshop that may have the necessary brake fluid, in Lannion. Even a Fiat Professional garage! The mechanic notes that there is plenty of fluid, but pours in a dash anyway - for our peace of mind. We even don't have to pay anything. Thank you very much!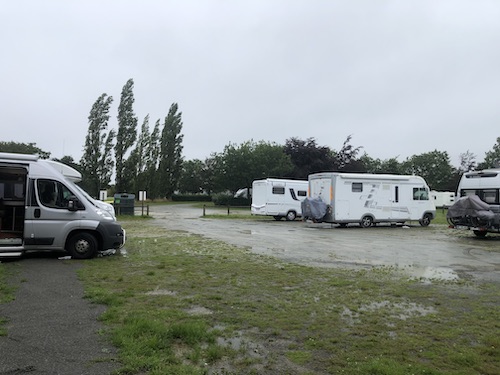 The site in Le Faou is a former camp site. Probably still under (re)construction; it is very muddy. And there is no WLAN yet.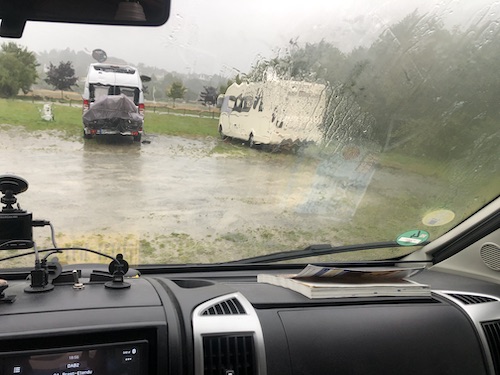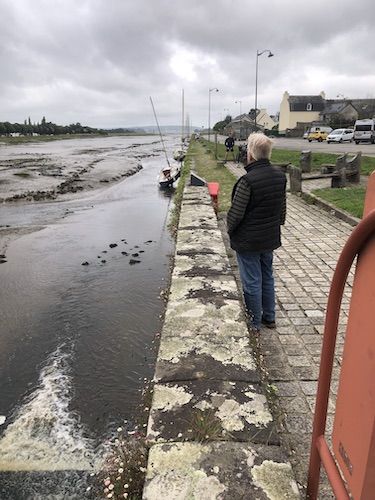 Le Faou harbour is a typical tidal port. Because it is low tide, all ships are lying on one ear in the mud. The difference between low and high tide is as much as 6m!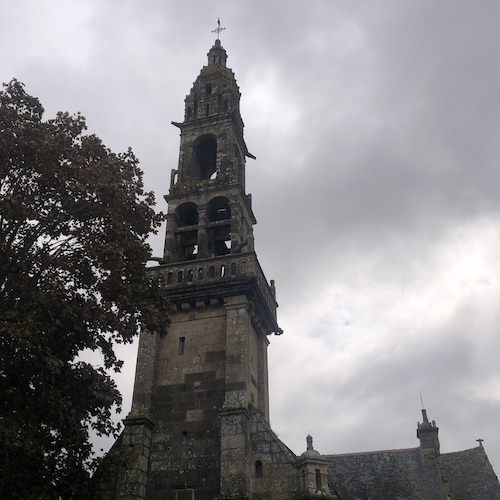 The 16th century church tower is of typical Breton open construction.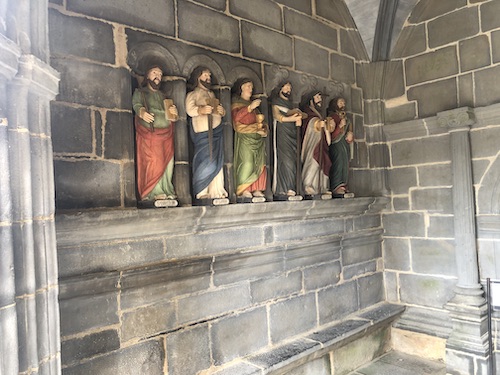 In the portal in front of the church door, Jesus and 12 disciples are lined up, all with their names in Breton.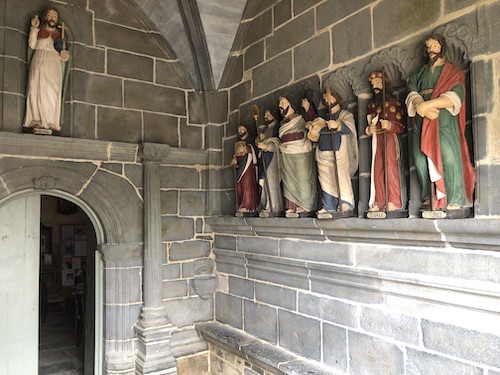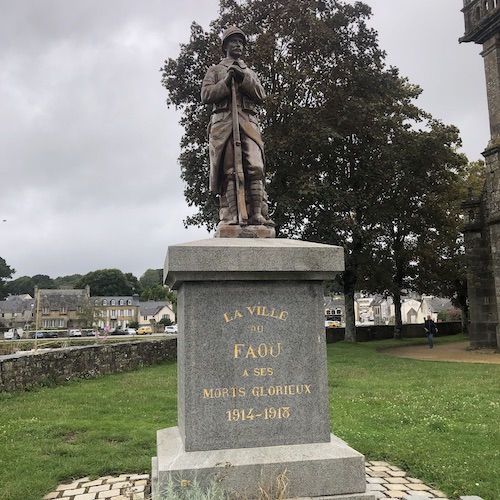 And another monument commemorating La grande guerre.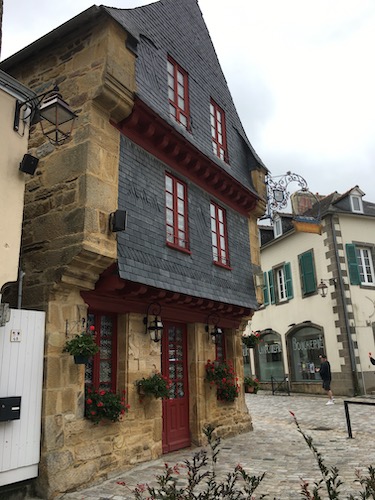 A 16th century house in the town centre.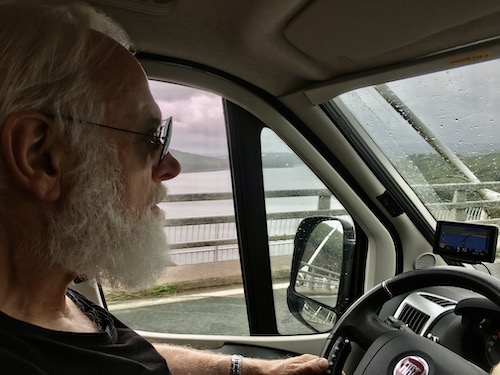 On our way to Crozon we cross the Aulne estuary at Rosnoën.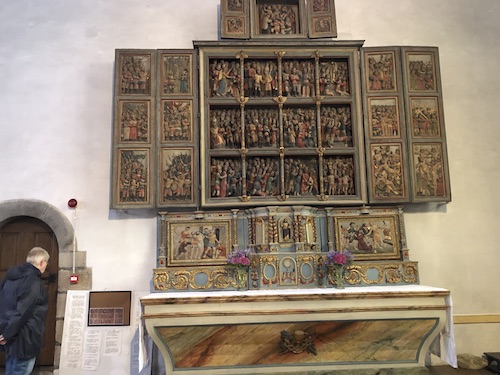 In the Saint-Pierre church of Crozon there is a famous altar piece with a woodcarving of "the 10000 martyrs".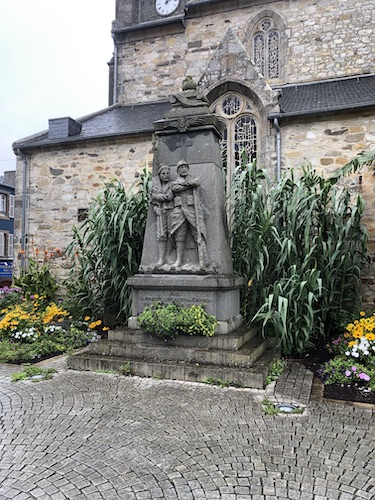 More martyrs from '14-'18.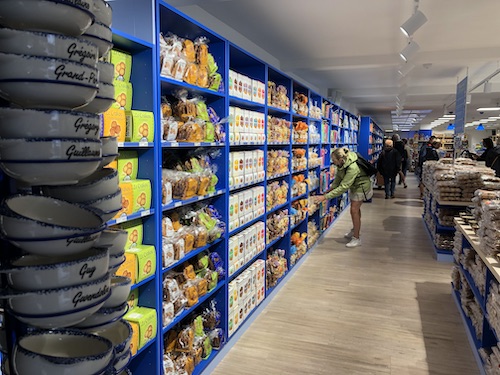 Brittany is known for its cookies. In Crozon they have combined cookies and souvenirs in this tourists' shop. Never seen this many cookies in one place!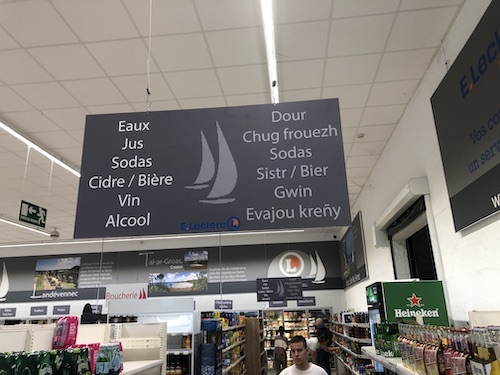 Road signs and supermarket signs are in two languages, French and Breton, a Celtic language, originating in the early Middle Ages. Although some schools are teaching Breton, the language is severely endangered.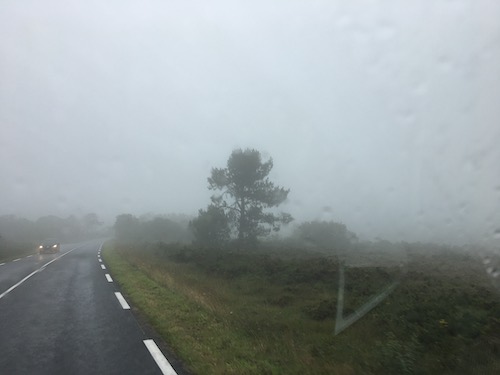 Driving south-east along the D887, we get caught up in heavy fog (heavier than this photo suggests). 

In Plomodiern we drive out of the cloud. If not, we wouldn't have seen this open church tower at all.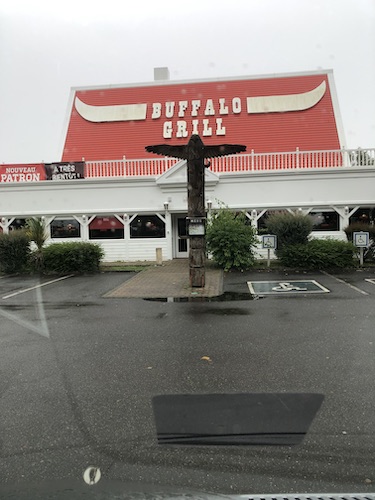 Concarneau has both a Buffalo Grill and an RV parking. Buffalo Grill is a chain of Western-style restaurants serving perfect steak. The camper site is a muddy area near the bricked up railway station.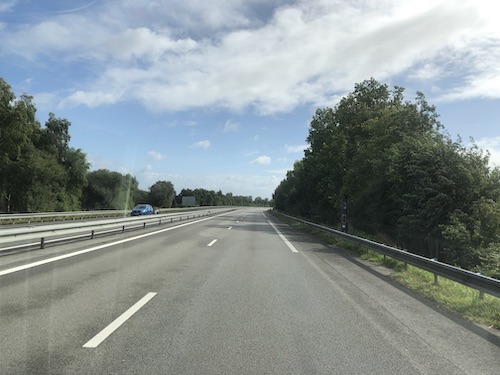 The N24 eastbound is an excellent highway. Speed maximum 110 km/h. We are making good progress.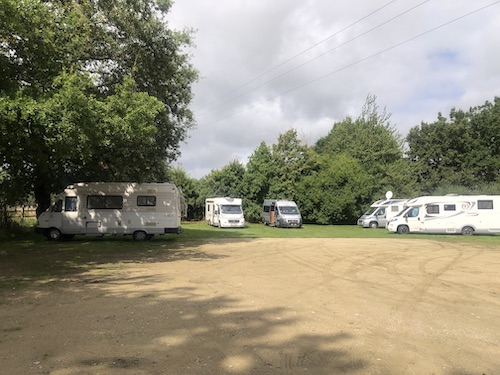 Suddenly, Tomtom tells us to leave the motorway and turn right into a cart track to arrive at the camper place at the Jardins de Brocéliande. This is where buses full of schoolchildren go for their school trip.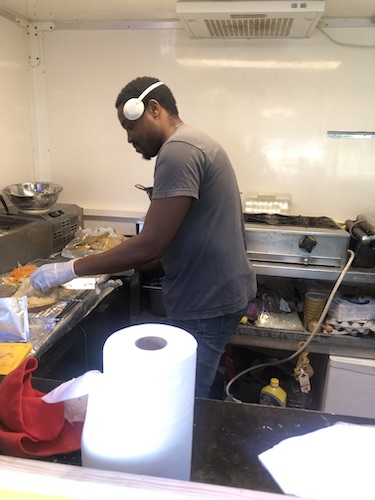 There is a food truck during the lunch break. Today with food from Guadeloupe.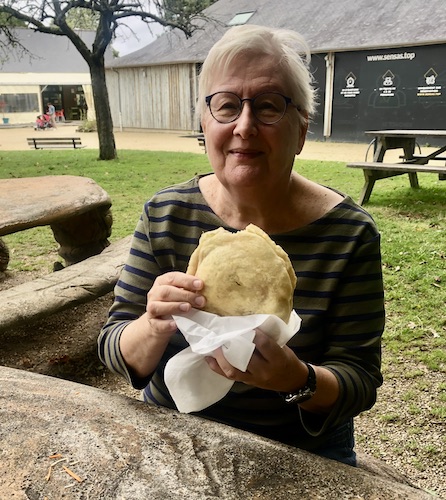 The fried sandwich, called bokit,  with tuna, grated cheese, grated carrot, lettuce and tomato is a complete meal.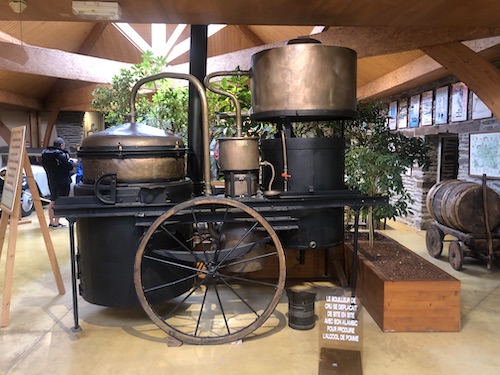 In Lohéac, we go to the car museum. It is six times bigger than we imagined! One of the first vehicles we see is a mobile distillery!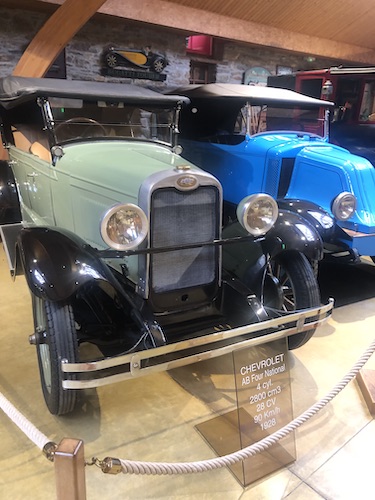 There are countless cars, not only French, but also German and American. And some more....
And almost all in showroom condition.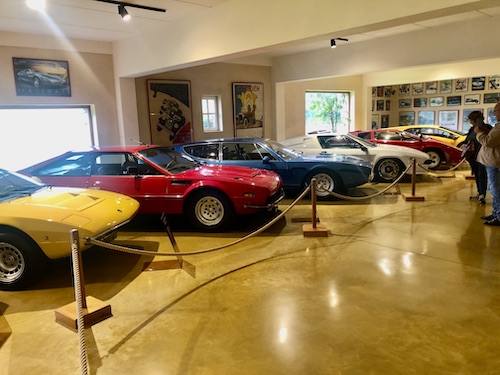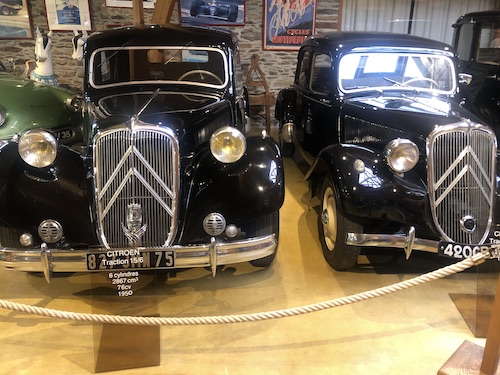 These iconic Citroëns defined the image of the French car industry in our younger years.
At the tourist office at the Jardins de Brocéliande yesterday, we picked up some leaflets. One concerned the car museum, another the Transmission Museum, in Cesson-Sévigné.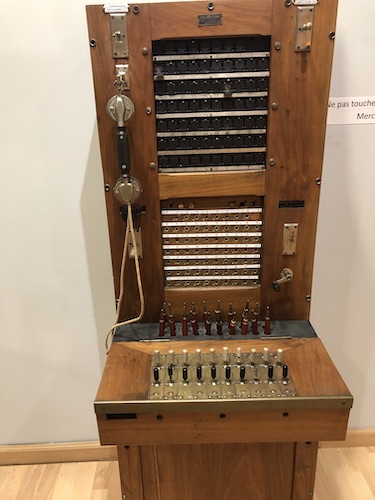 This museum, intended to provide information about the French Army's signal corps, shows the history of telecommunications through the ages.
Dating from the early 20th century, this manual switch board.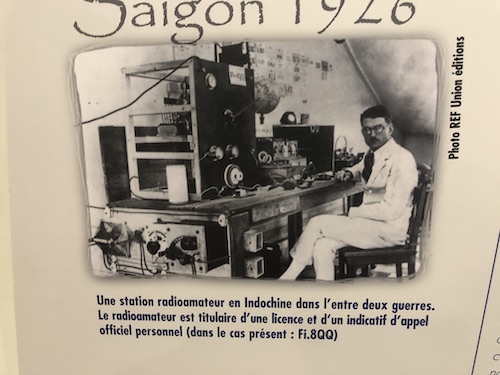 Ample attention is paid to the role radio amateurs have played in the development of military telecommunications.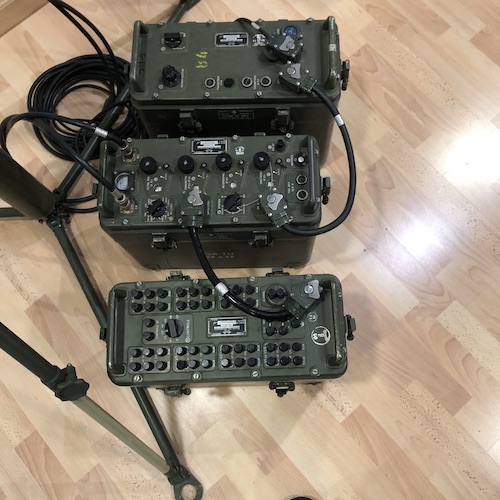 However, new equipment is also on display.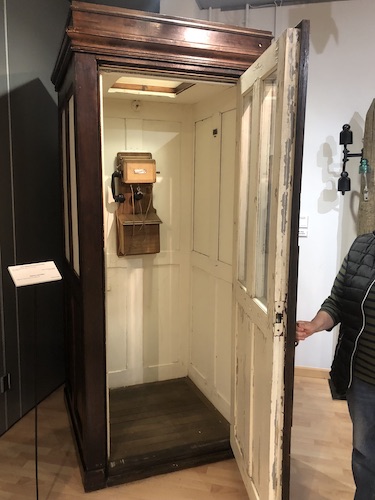 One more look at the past. A phone box (with an LB phone).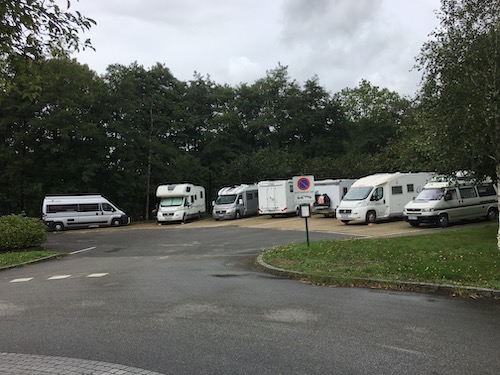 Cesson-Sévigné has a motorhome spot. However, there is no decent place available for us.
So we drive on to Le Pertre.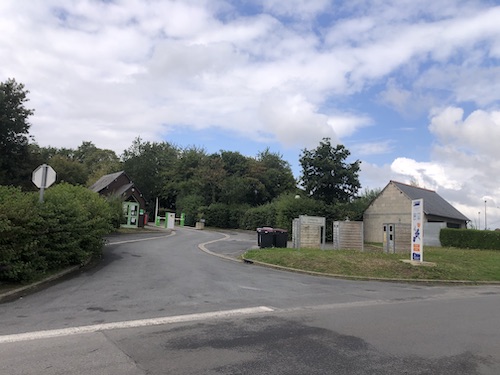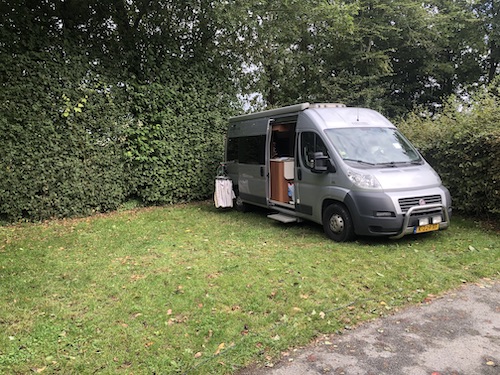 This site has very spacious pitches with private water taps.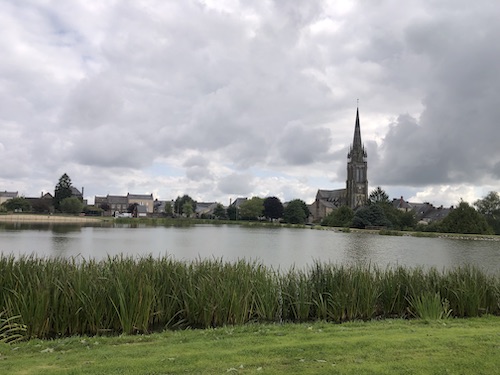 Close to the site is this idyllic little lake.