2015 Aug/Sep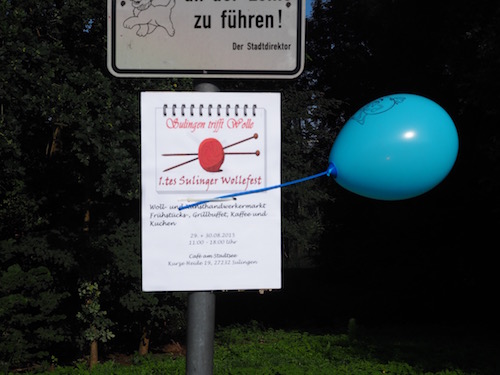 This trip started with the Sulingen Wool Festival. Small billboards were also attached at the motorhome parking.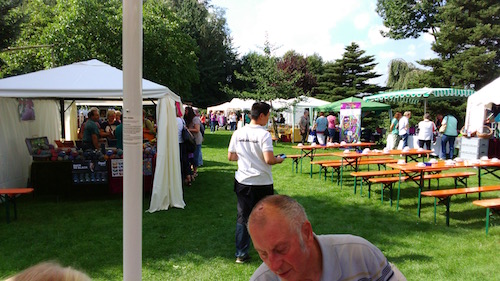 The venue was the Stadtcafé. They are prepared for more visitors, later that day. 

After a long search Sylvia found what she was looking for.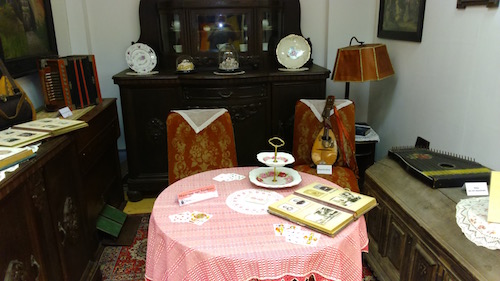 The Sulingen Stadtcafé is also home to a small regional museum.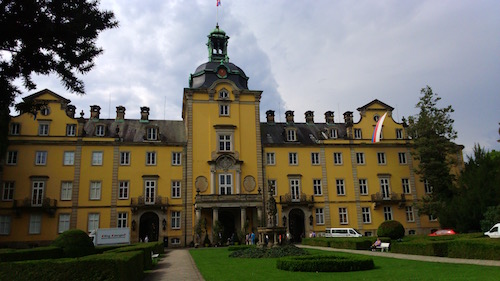 Next stop was Bückeburg, home of the famous equestrian school. Motorhomes have their dedicated parking, close to the Schloß (castle).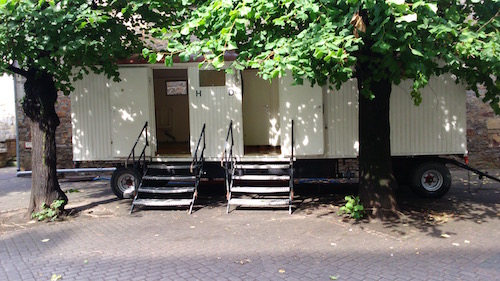 In the castle's garden they have toilets in High Definition.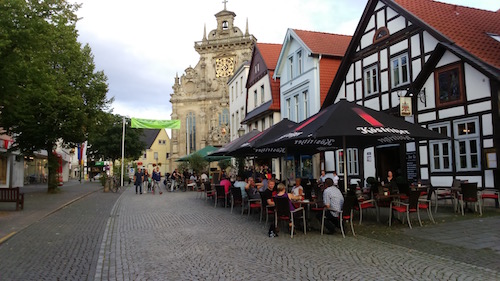 Because of a festival with many walking bands, the town is nicely full.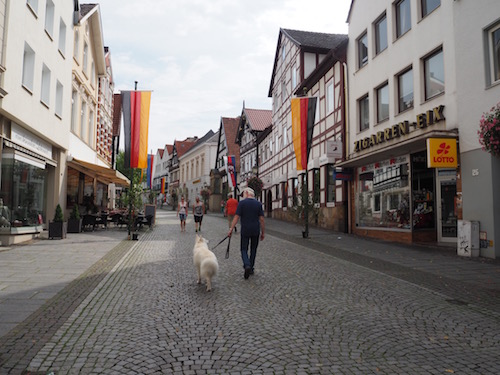 Later that day we saw the same band unwinding at a local bar. Clearly not able to make music any longer.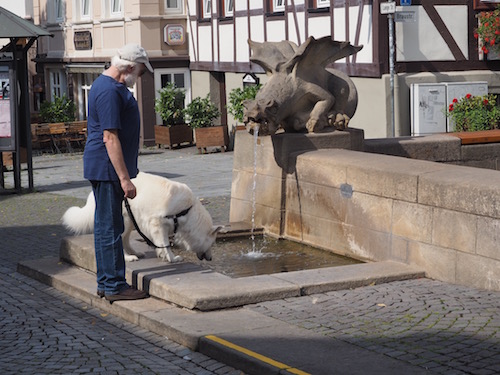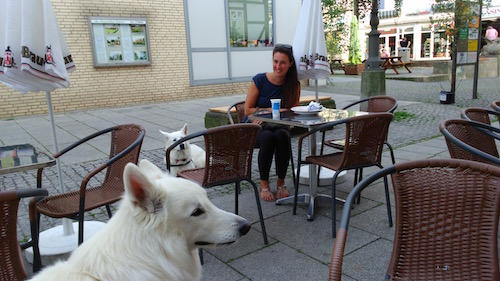 At Turkish Restaurant Efes we meet another white shepherd, a well-trained bitch.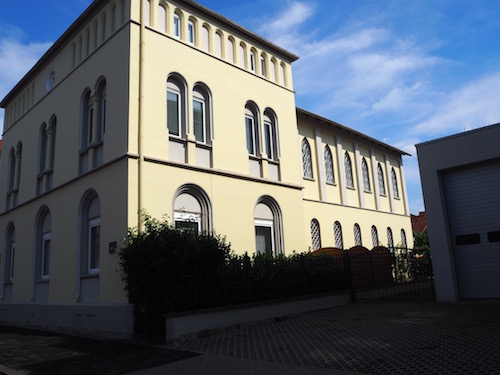 This building was the local synagogue, until the infamous Kristallnacht.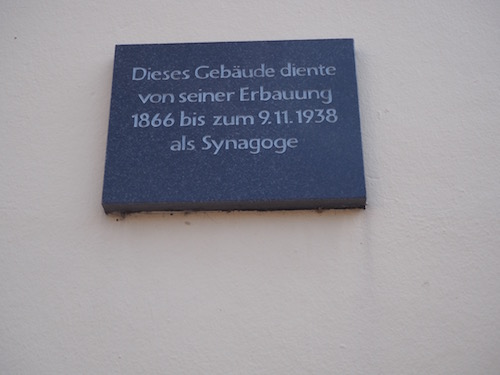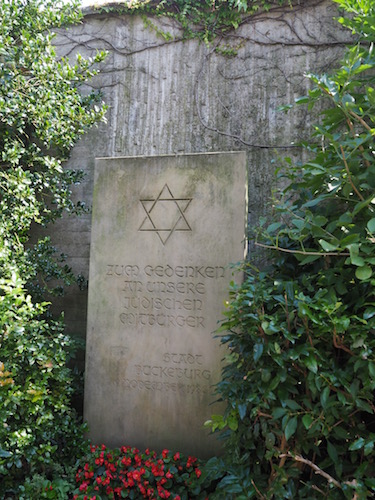 Monument for the Jews of Bückeburg who perished during the Holocaust.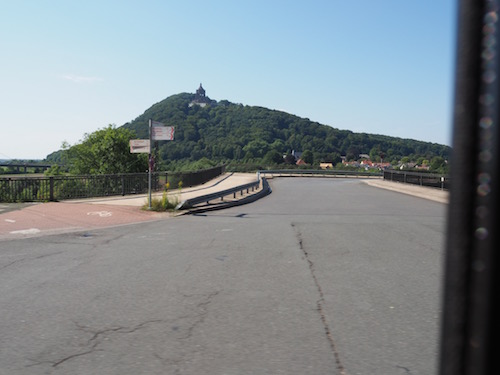 Driving South-West we see the mountain overlooking Porta Westfalica.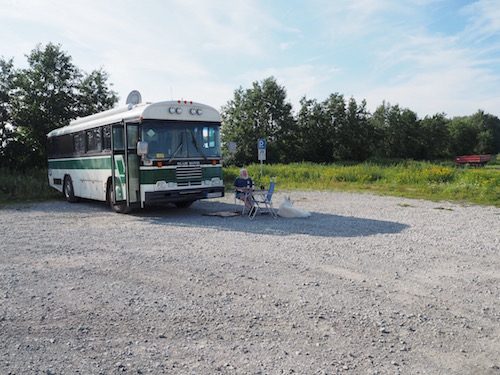 In our intended place for the night, Rheda, was a huge jumble sale, so no place for us. We slept in nearby Rietberg, on the parking lot of the Bible Museum.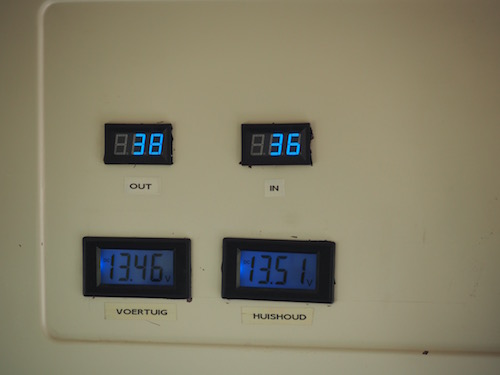 It was quite hot! (38℃ = 100℉)
Still, Motek enjoyed the dedicated fenced area, where he could run and play with some local dogs.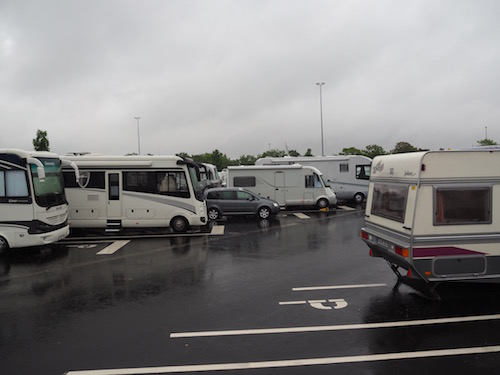 When we arrived at the Düsseldorf fair grounds, it was raining.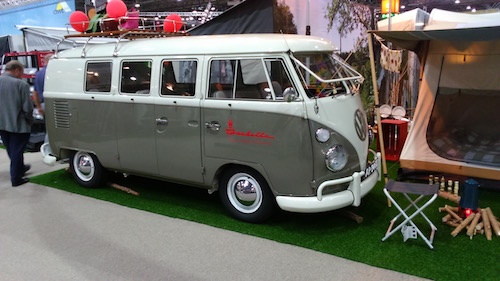 Like every year, part of the exhibition are some veteran camper vans and caravans.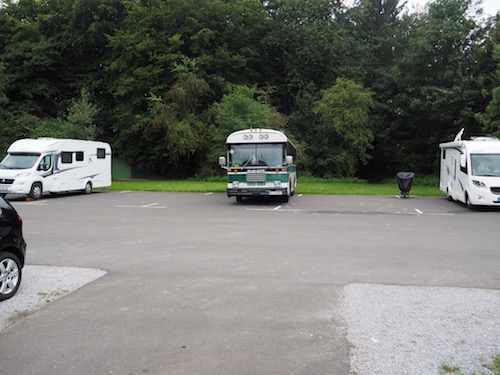 Close to the Dutch border we stay at Grefrath-Oedt.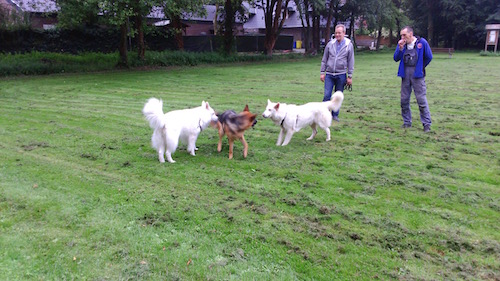 And, again, Motek meets another white shepherd. The breed is getting popular!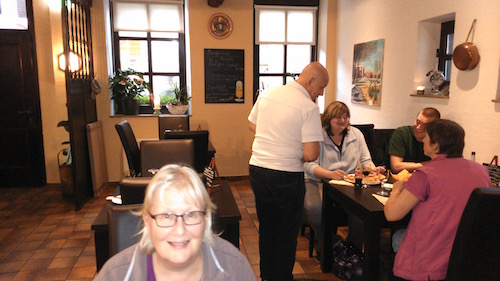 We enjoy a nice Italian meal at Trattoria Turii.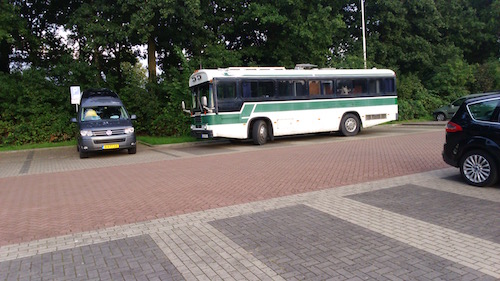 Towards the North of the Netherlands we sleep at Silvolde. If we'd park as intended, we'd stick out about 7'.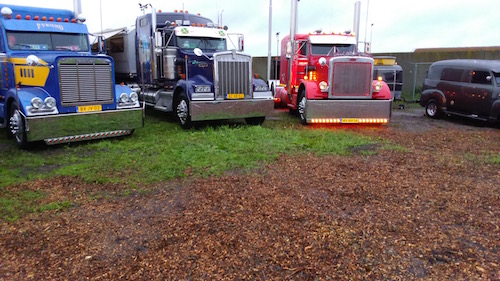 In Vroomshoop (NL) we take part in the Americana festival American Tukkerday.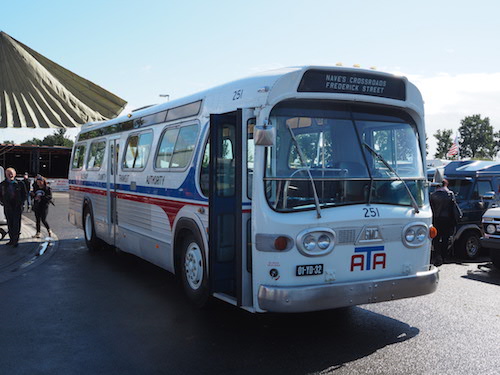 This beauty from Allegany County NY takes visitors for a ride through the surroundings.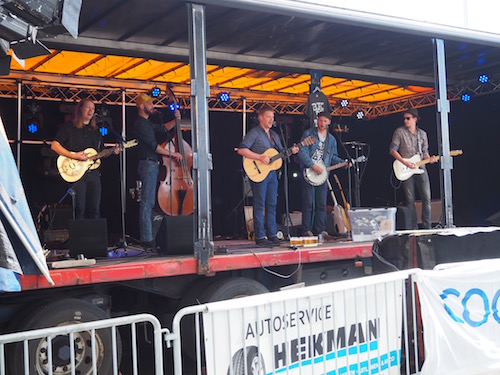 Different bands perform live. Unfortunately the driving rain keeps most visitors away from the (covered) stage.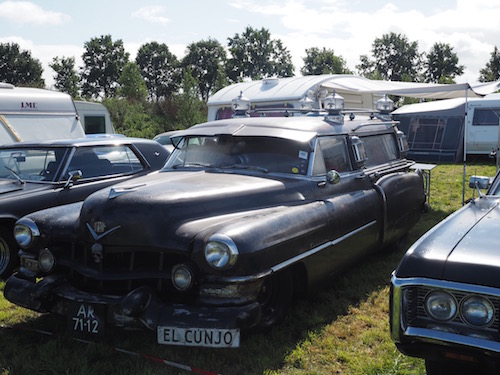 Among the countless American vehicles is this pretty ugly Cadillac hearse.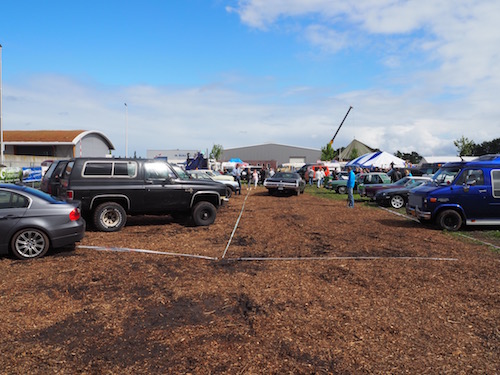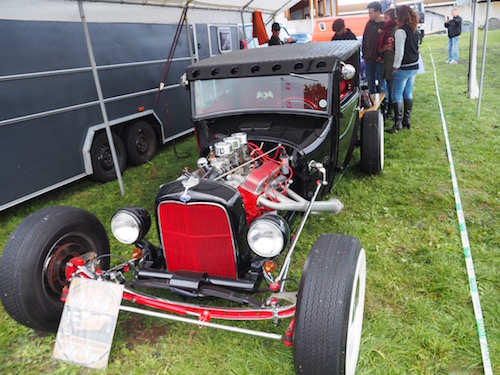 Probably not for everyday transportation....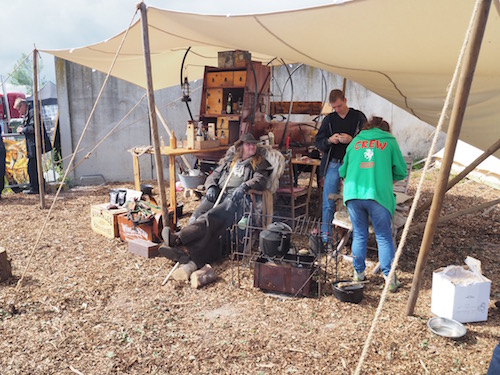 Some enthusiasts spend the weekend re-enacting the Wild West.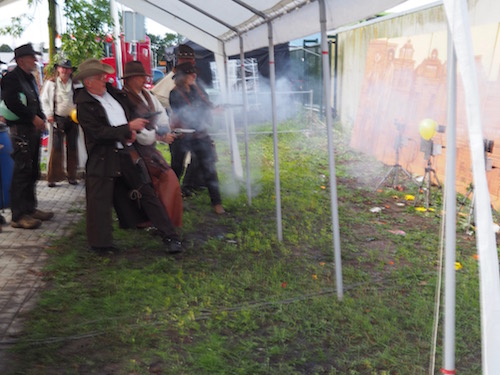 Of course quick drawing and shooting are part of the fun.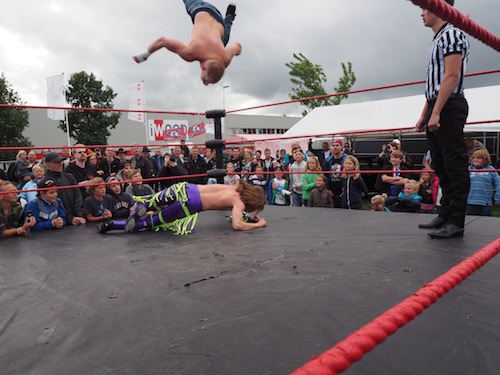 Show wrestling, more show than wrestling.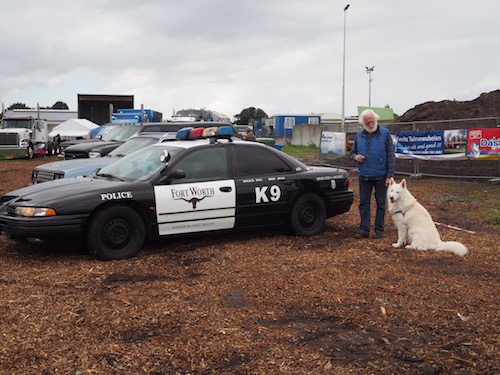 Motek applied for a job as service dog with the Fort Worth Tx police.
After 665 km (413 mi) we were home again, just in time for the annual gathering of our Oldenburg synagogue. Despite the rain we had a great week.



Go to top of page