2015 Summer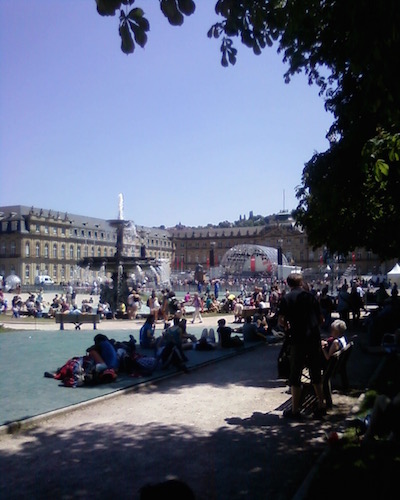 In June 2015 Sylvia took part in the Kirchentag event of the Evangelical church in Stuttgart. She was member of a group "foreigners". As a non-German and non-Christian she fitted in very well.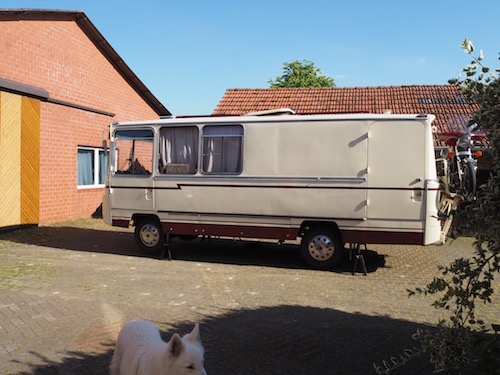 While Sylvia was in Stuttgart, Peter and Christl came to pay a visit to Sage-Haast with their beatifully converted coach. 

The next camper van to park in our yard was Albert and Ineke's. They came in the context of a micro-reunion, together with Simon and Els and Cora.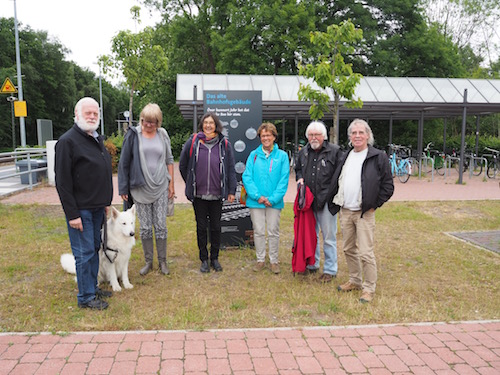 Six alumni of the Hague grammmar school (not Motek).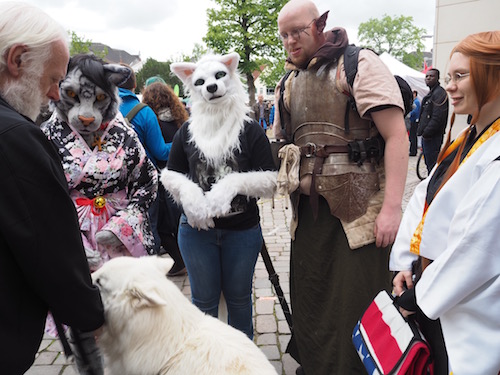 In Oldenburg was a LGBT event, as well as a fantasy festival. Motek was quite confused by the friendly white wolf.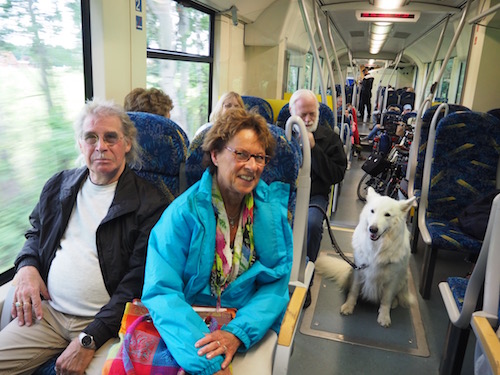 Because of expected parking problems, we travelled to and from Oldenburg by train. AFAIK Motek's first time ever.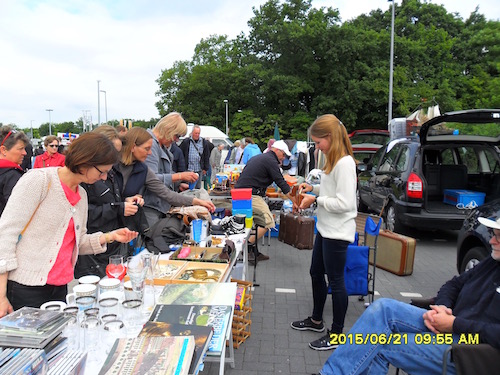 On Sunday was a huge jumble sale, also in Oldenburg.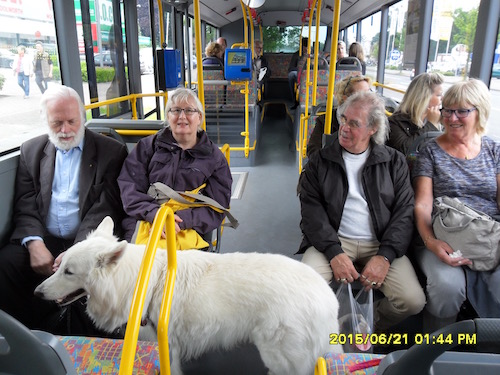 Shuttle buses ran between car park and market site.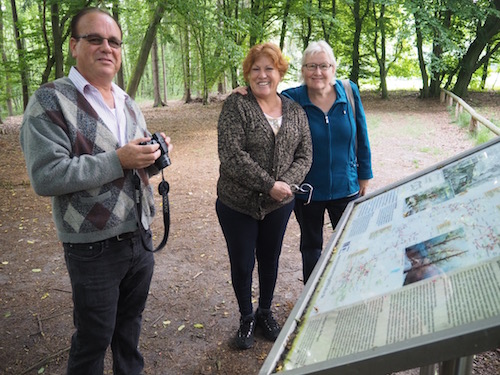 A week later Guido and Patricia, our Airbnb hosts in Surfside Fl, stayed a couple of nights at our place. They were making a two months "grand tour" of Europe.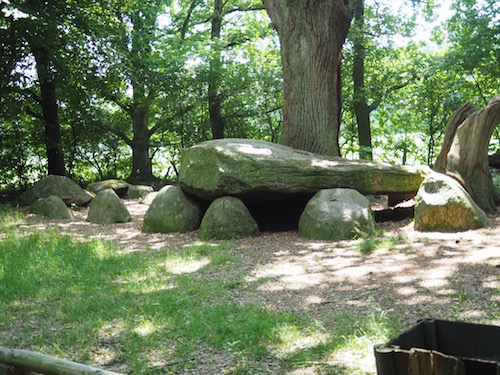 Close to Sage-Haast, between Ahlhorn and Visbek, is a number of impressive megalithic structures.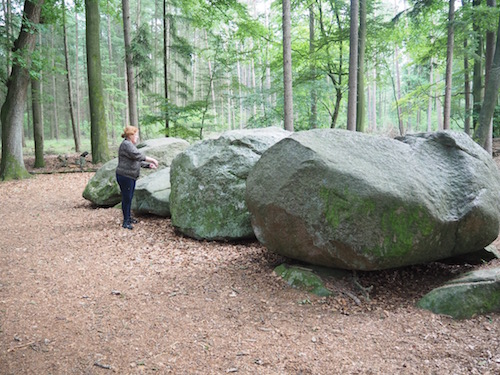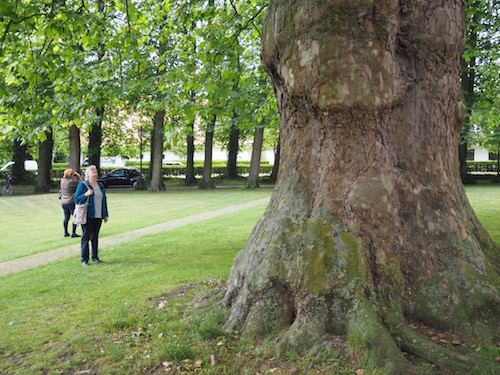 The Alexander Church (13th century) in Wildeshausen with its 100 year old plane tree.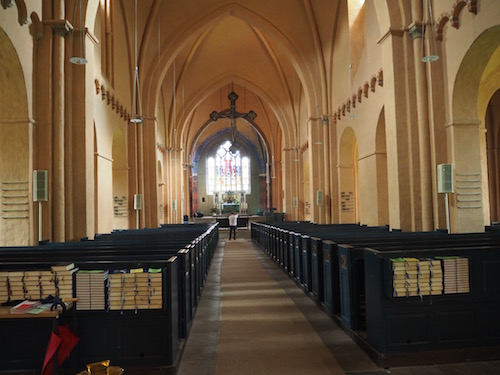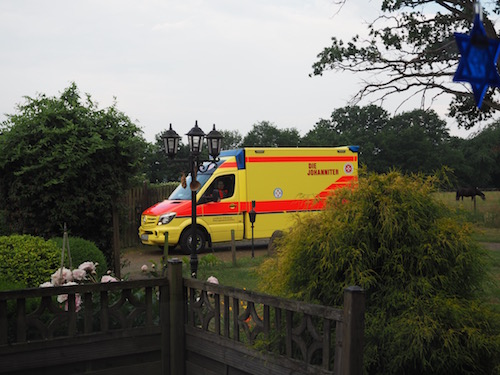 The last weekend of June I had a terrible stomach pain for more than a day. The called in doctor deemed it desirable to transport me to the hospital. This was done in a spectacular way. After several days of tests it was decided that everything was connected with too much stomach acid.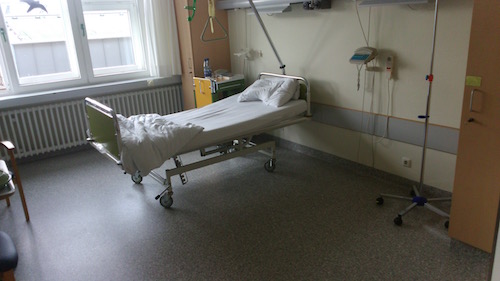 A room for myself: not cosy, but quiet.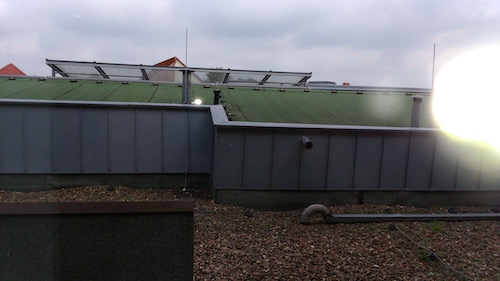 The view from my window was not very inspiring either.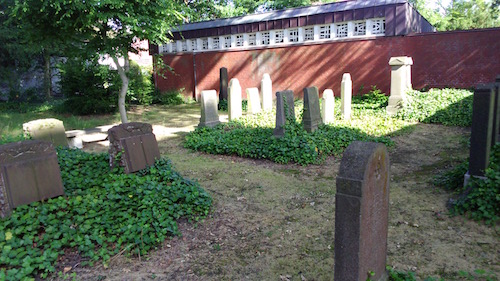 After my stay in Wildeshausen I had another appointment in Cloppenburg. Here I found this small Jewish cemetery.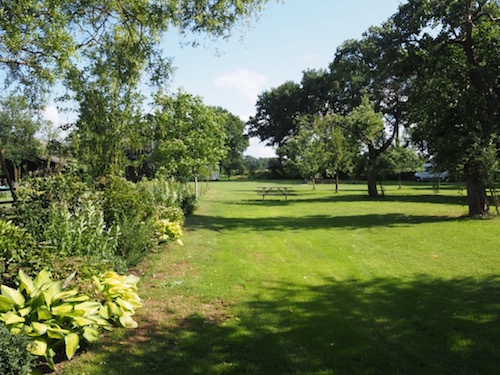 Then it was time for a short (two weeks) holiday trip. We took the little camper van, because we didn't have to take luggage for a longer period of time. The first night we slept on a small camp site in Hertme, in an orchard!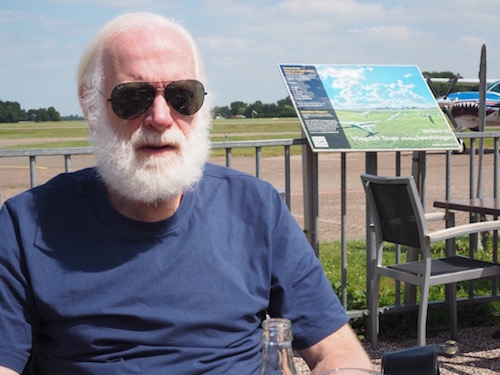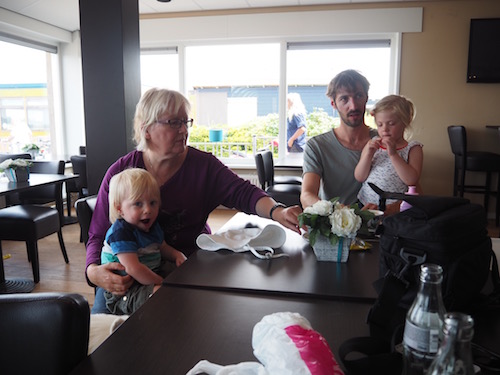 The next day we met Judith, Marcel, Sara and Abe at Teuge airfield. The weather was beautiful. Those kids are growing fast!
























The weekend was so hot, that early in the afternoon we decided to call it a day and buy ourselves a cold beer. Unfortunately, beer was very hard to find. No beer at Schenkenschanz.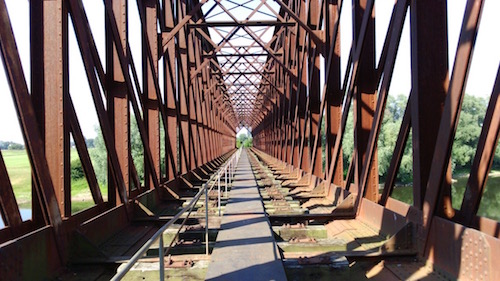 No beer at Griethausen either. But they have the oldest steel bridge of Germany. And a motorhome parking, but this time not for us.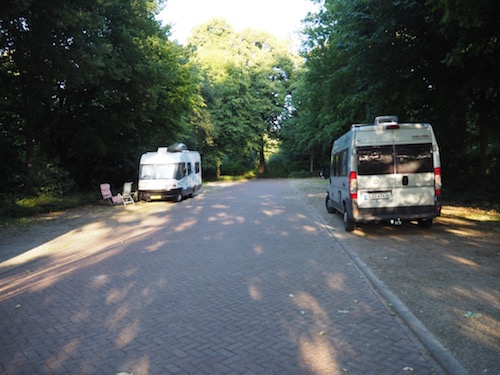 The official overnight motorhome parking in Kleve is close to the zoo.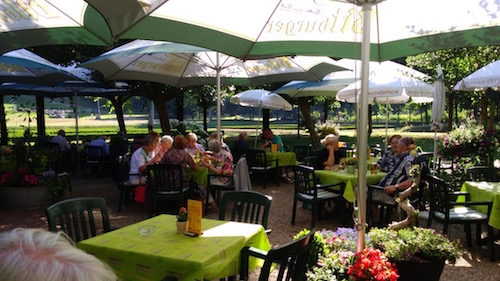 And eventually we found those cold beers! We decided we might as well have a full meal here.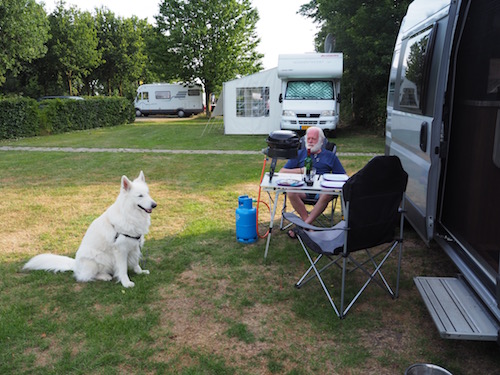 The next day we were back in the Netherlands, in the village of Bladel. "Camping on a farm".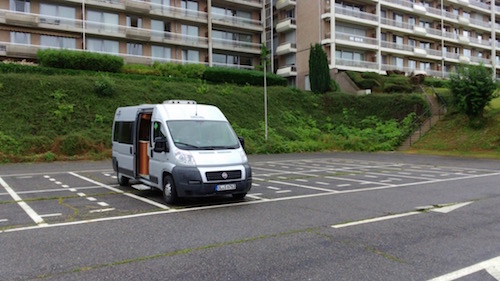 In the Belgian province of Limburg we stayed in the town of Bilzen. Although it looks close to the apartment buildings, it is very quiet. And it's a short walk to the town centre.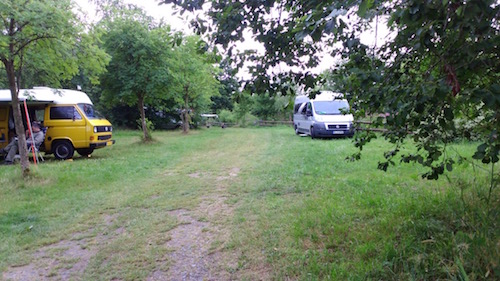 We found this "camping on a farm" in the hamlet of Beho (Belgian Ardennes) on the Web. It's supposed to be extremely dog-friendly. We're still wondering what's so special about the place....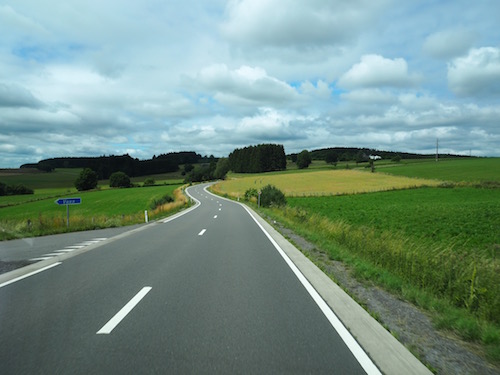 We continue south through this rolling countryside.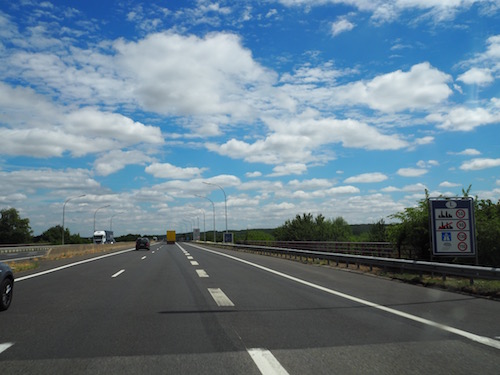 We leave Belgium for Luxemburg....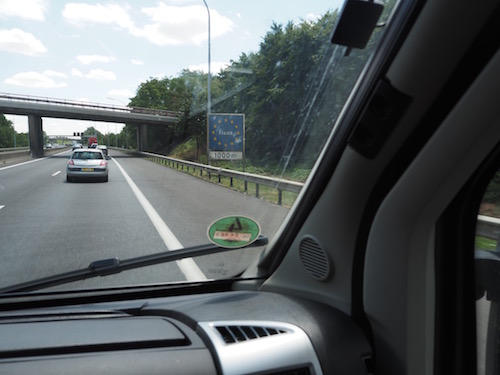 ... and shortly after that leave Luxemburg for France.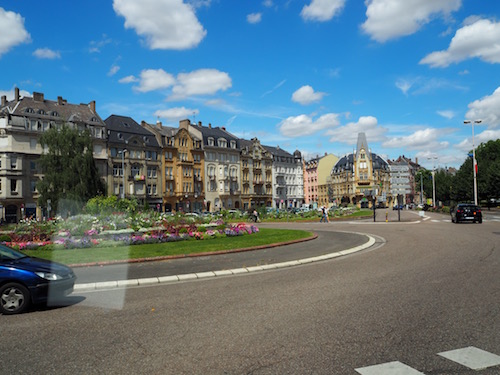 The French town of Thionville.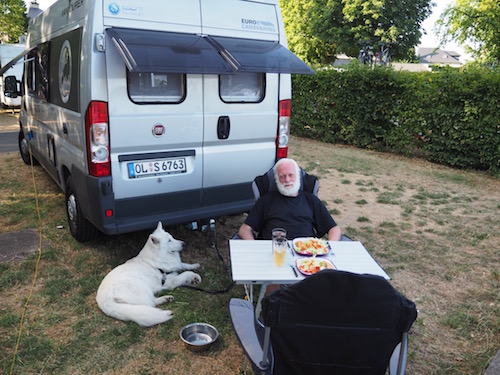 Municipal camp site. Crowded, but the staff is very friendly!

The river Moselle flows through Thionville. On the left you can see the camp site.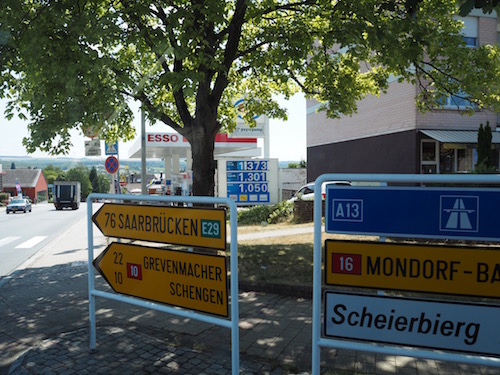 To reach Germany from France, the shortest route is through Luxemburg again. For € 1.05 a litre (diesel fuel) we cannot skip filling up our van :-)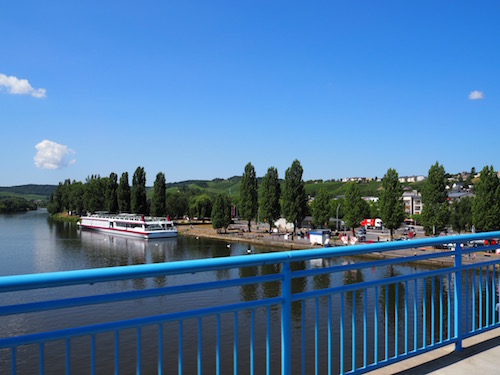 Bridge across the Moselle in Remich (L).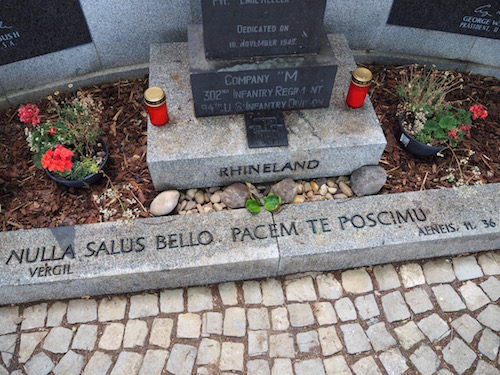 Joint American-German monument for the forces who fought at the bend in the river Saar in 1944.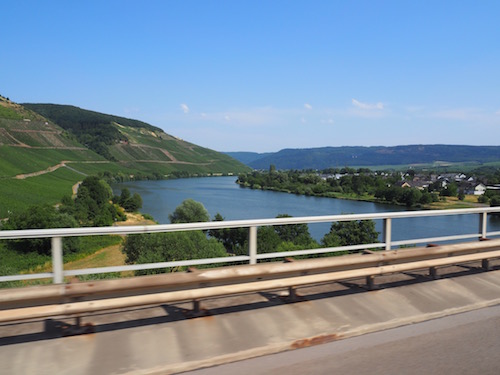 We cross the river Saar and enter the town of Saarburg.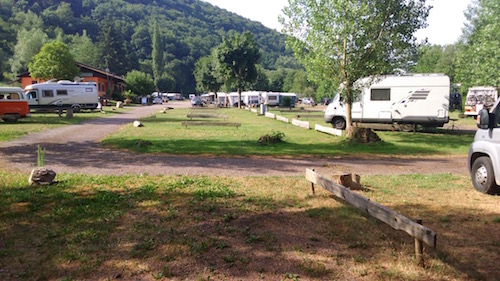 This Saarburg camp site is clearly divided in two: one part with caravans and tents for campers who spend their holidays here, and another part for motorhomes, whose residents are in transit.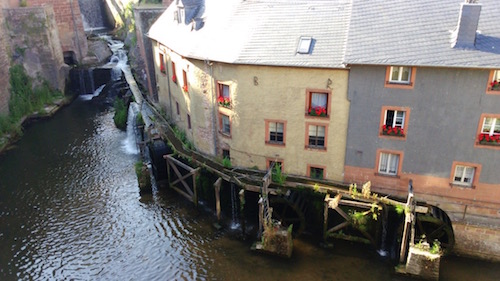 The main tourist attraction of Saarburg: the Leukbach waterrfall in the town centre.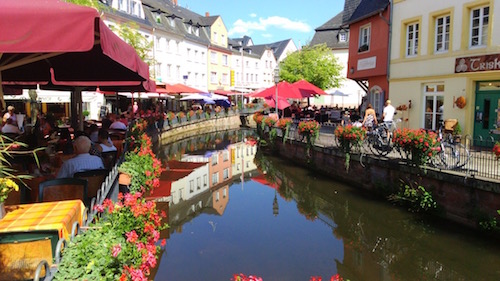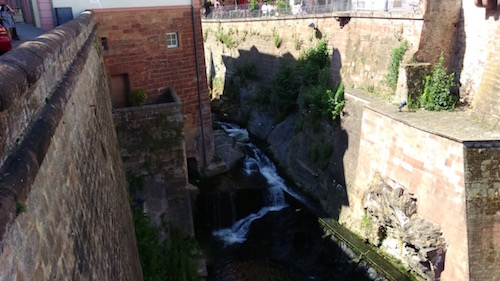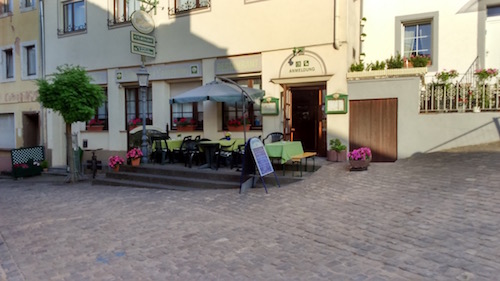 On our way from Saarburg centre to the camp site, we stop at this restaurant and enjoy a great meal, prepared specially for us. We are the only patrons tonight.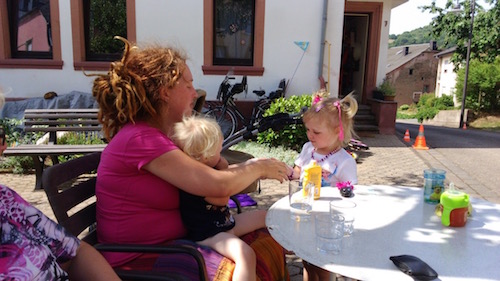 In Tawern, close to the Luxemburg border, we visit Corianne and her three daughters. Corianne is my Voorburg neighbours' daughter and classmate of Judith.
Her husband Rody is at work (in Luxemburg).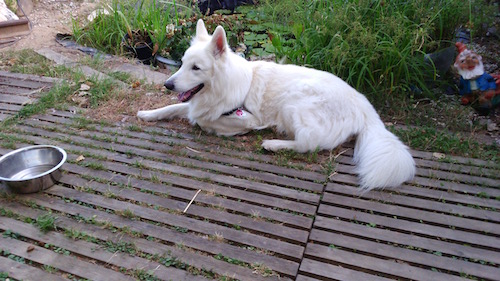 In Noviand we park in the yard of our friends Stevie and Elke. Motek feels at home immediately (he's been here before). It is about 40℃ (104℉) and when it's dark we can watch an impressive thunderstorm over the river Moselle.

This is the parking of the Dahlemer Binz airfield.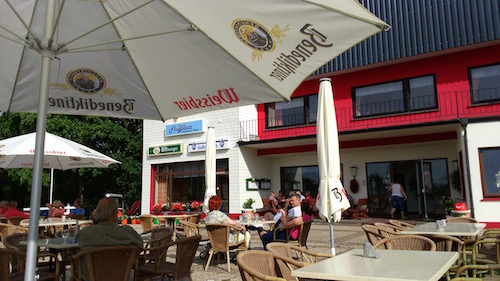 And here is the bar. The (Dutch) operator has two German Shepherd bitches with whom Motek holds a speed contest at night. He sleeps well that night!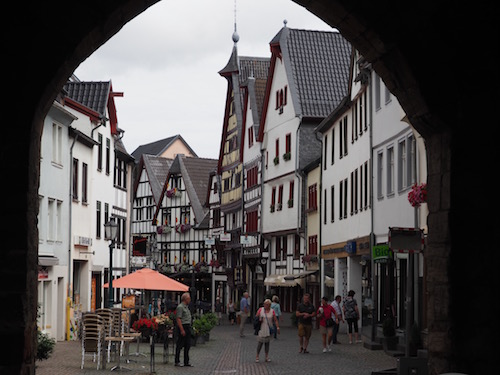 On the airfield someone suggested last night we should look around in Bad Münstereifel as well. He was right!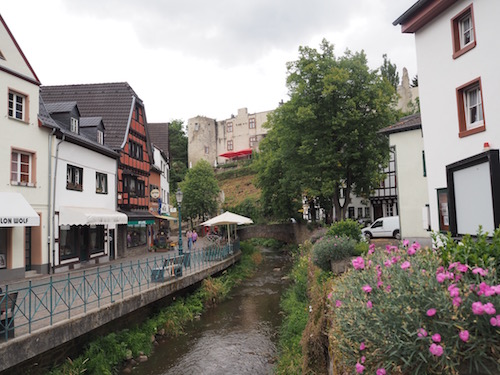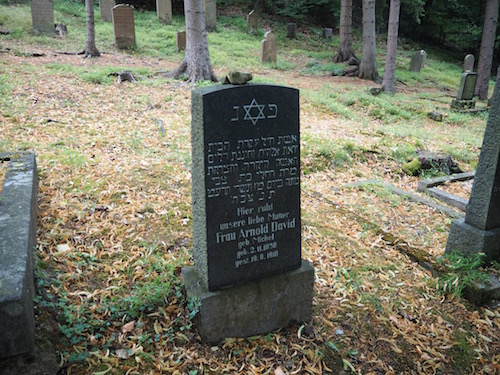 Bad Münstereifel also has a quite well preserved Jewish cemetery.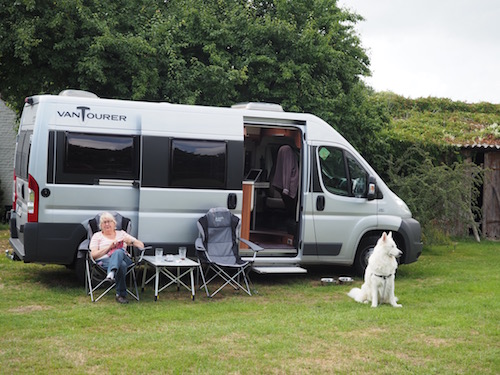 Back on the Bladel mini-camping.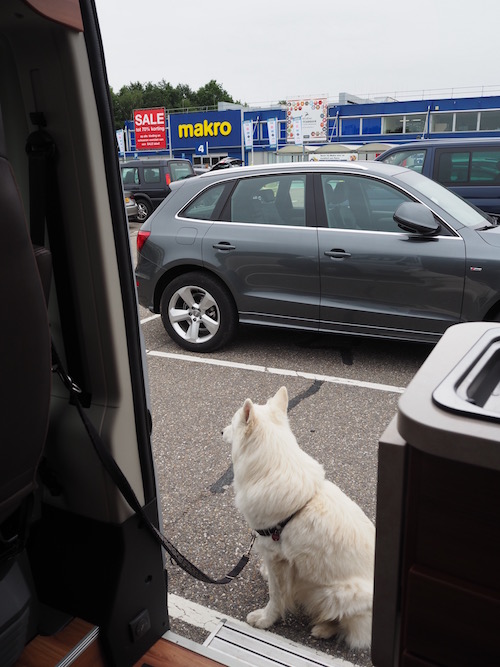 Some shopping at Makro in Best. Dogs are not allowed inside.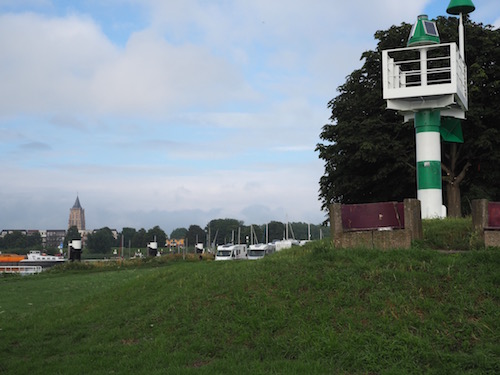 Gorinchem marina offers space for passers-by, travelling by yacht or by motorhome.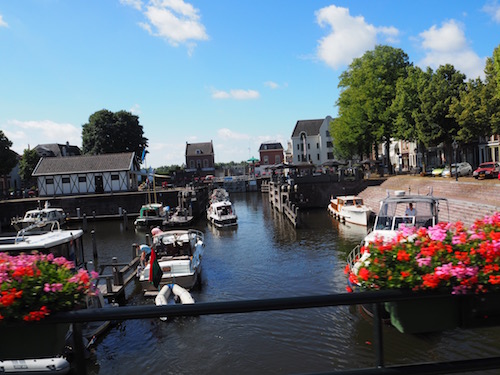 Downtown Gorinchem. Canals all around.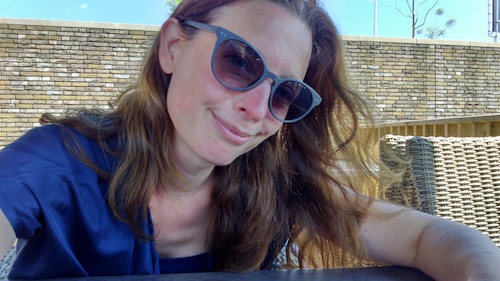 In Utrecht we meet Eva for lunch in the completely new quarter called Leidsche Rijn.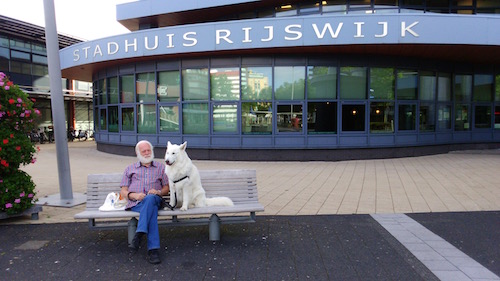 After a night along the A13 motorway, between Rotterdam and The Hague, we drive to the Rijswijk town hall for some paperwork. From there it is about four hours to home, where Igor, our house sitter, has prepared a meal for us.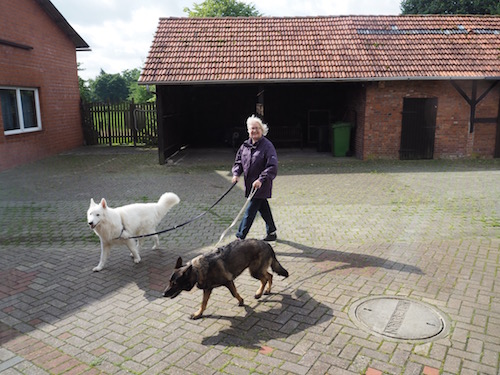 After a few days home (enough to do the laundry) José's daughter Vera in Bremen gives birth to Kirsten. As arranged before, we take care of Dyna while José goes on maternity visit.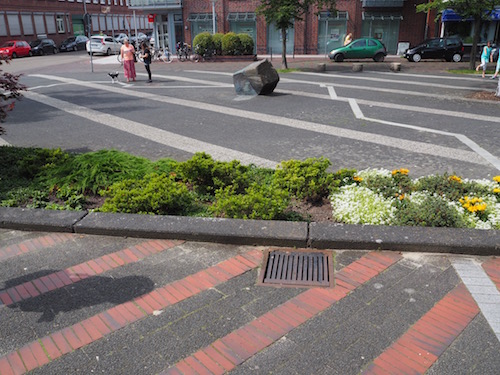 A city trip to Wilhelmshaven. Here the white line indicates where the synagogue once has been (until November 9th, 1938).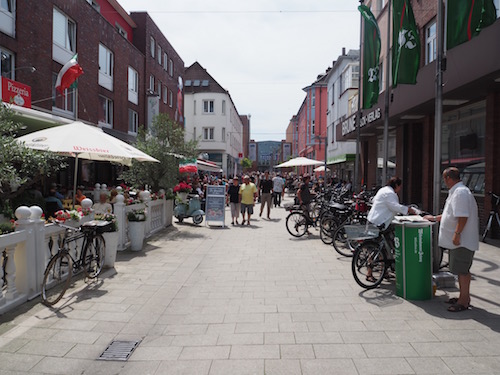 The inner city is particularly lively, both because of the fine weather and because of the Street Art Festival.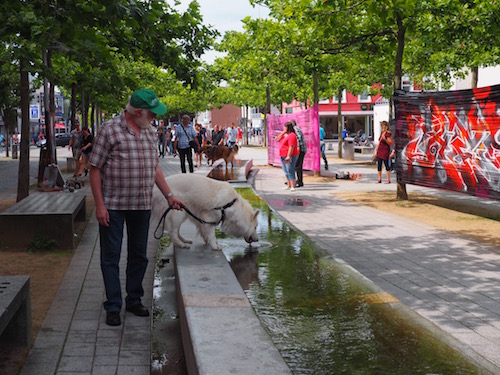 Plenty of water for a thirsty dog.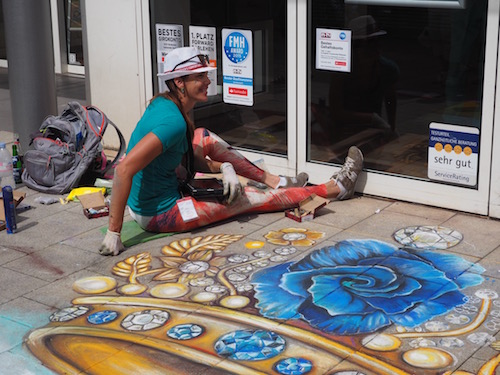 One of the 40 artists, Carrie Bennett.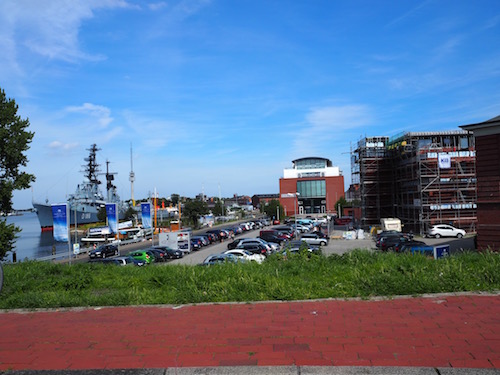 Wilhelmshaven also is a navy port.


Go to top of page