Year 2019
Like in recent years, we here list, for family and friends, close by and - especially - far away, and also for ourselves, the activities that have kept us busy in the year 2019.

January begins with the visit of Sylvia's Australian second cousin twice removed, Zoë. Together they do some research to find out more about their common family history.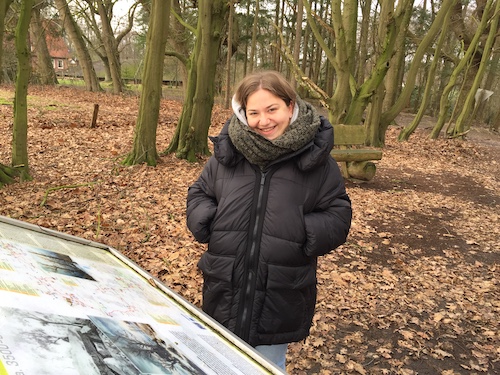 Ernst is elected 2nd president of the Jewish Community in Oldenburg. This turns out to be an almost full-time job (with Sylvia's support in the background). With this function comes membership of the board of the Association for Christian-Jewish Cooperation, of the Workgroup Religions of the Oldenburg Municipality and of the steering committee of the Leo Trepp Lehrhaus. That means a lot of meetings, all in German…

In February, traditionally the coldest month of the year, Ton, Kris and Rhodesian Ridgeback Ylva came for a weekend to cut up some trees for their wood stove.

At the beginning of March, Ernst, in our small camper van, takes the ferry Hoek van Holland - Harwich to see his cousin Chrissie in Leighton-Buzzard. She has a brain tumor and will not get better. His visit is greatly appreciated.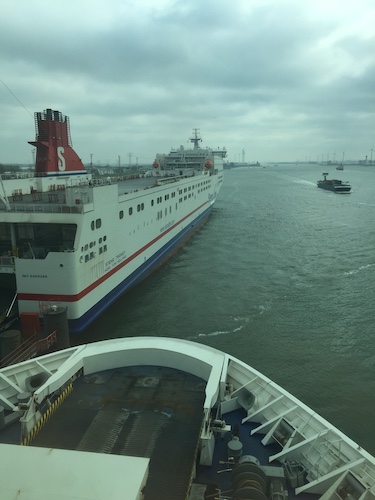 Later that month we meet Vera Meyer from Boston for a lunch in Bremen. She manages a Facebook group for Yekkes (descendants of German Jews) and will give a lecture about her father in Rothenburg an der Wümme. Finally, Sylvia visits the Folkadu concert that she co-organised.
Traditionally, the liberation of Bergen-Belsen is commemorated in April. Ernst represents the Jewish community of Oldenburg, together with daughter Eva who is visiting that weekend. As usual we have our Passover seider in Dutch at home.

And then it's time for a short vacation, we think….

Like every year, we put up a Maypole with a group of neighbours on the 1st of May. Immediately after that, we take the Wanderlodge to the motorhome meeting in Bodenheim, for our 12th or 13th time, so we meet many old acquaintances. On the way to Bodenheim we notice that the bus only brakes with its rear axle, not a nice feeling! We make an appointment for Monday morning at a MAN workshop in Mainz, where it becomes clear that we need new front membrane cylinders.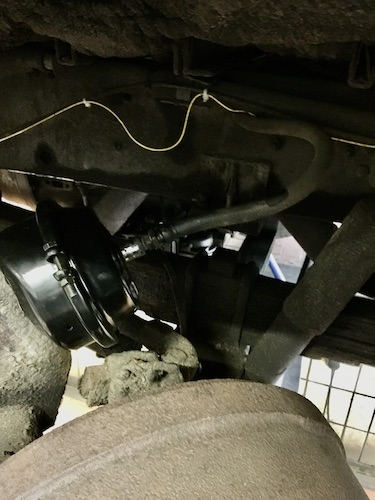 A repair of a few hours eventually takes two days because the MAN mechanics only know metric thread. For Sylvia this means many cups of coffee in the coffee corner.

On the way home we end up in a traffic jam, due to an accident in front of us; five hours of "stop-and-go" is a rather stressful experience.

The next day Ernst has a sensation in his face like being stung by many cactus needles, followed by a high fever and an inflamed eye. The doctor diagnoses facial shingles and prescribes virus inhibitors. It will eventually become a 16-day stay in hospital, the first week in isolation, with meningo-encephalitis and virus inhibitors per IV.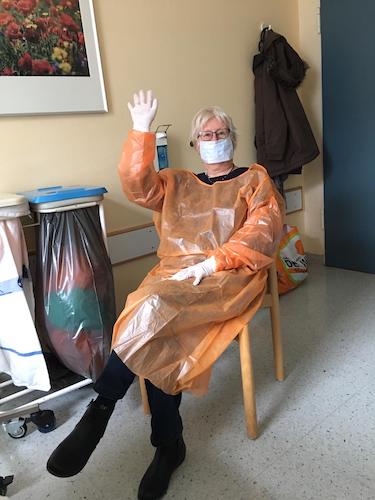 During this period Sylvia notices once more that she does live very isolated without a driver.

After the hospital, Ernst needs to take lots of medication to control his post-herpetic neuralgia, unfortunately with some (well-known) side effects. Nevertheless, he can be present in June when the foundation stone of the pre-war synagogue in Oldenburg is officially given on loan to the local Stadtmuseum.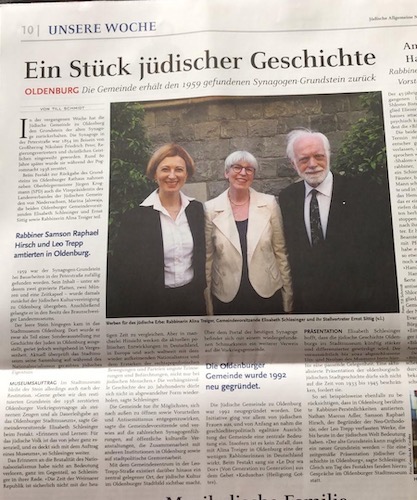 Sylvia goes to the concert of the Epstein Trio that she has co-organised herself and to the 60th birthday of neighbour Uwe, which is celebrated in grand style at his farm. She ends her coordinating role for the Jewniors, the children's group in shul.

The agenda for the summer is determined by weekly checks by the ophthalmologist. Ernst does not feel fit enough for long journeys, so we take short trips with the small van in Friesland and Emsland. The large bus now stands in Oldenburg, waiting for new injectors from the US.

In July we have a garden party in Bremen on the occasion of the birthdays of Rolf and Elisabeth. Sylvia, together with the neighbours, makes a flower arrangement for the 80th birthday of our next-door neighbour Manfred.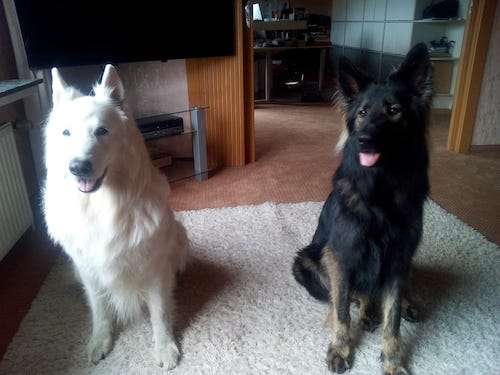 Because José (with her dog Blitzen) is sweet enough to come and take care of Motek, we can both be present at the birthday brunch.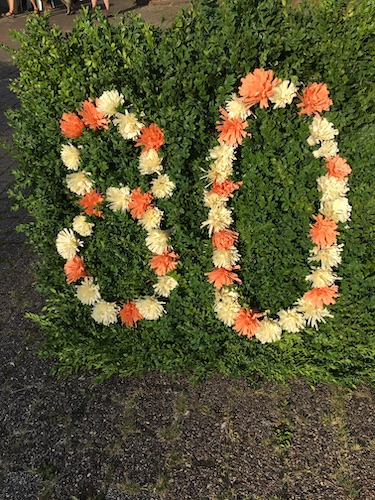 Another party at the beginning of August: Kris turns 50. On the way back from Norway, Ton and Kris stop by to "bring back something". To Kris's great surprise, her parents and children are here too and we - together with Ton - have prepared a barbecue meal. At the end of the month we go on a weekend trip, first to the motorhome meeting that René has organised in Nunspeet and then to the Mensa-Oldies meeting in Utrecht, then quickly back home because the next day Ernst has to go to a Bar Mitzvah in Jever. In the meantime, we also started constructing a kit for a new sukkah for shul.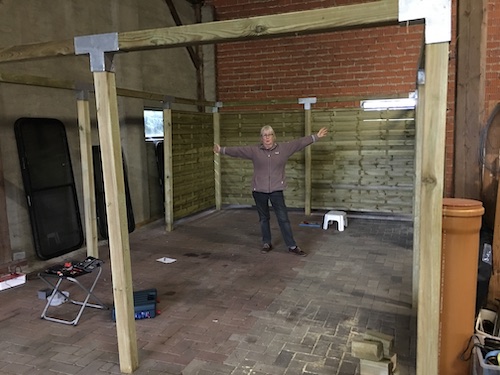 To transport the parts, we need a trailer which we find in Papenburg.

September starts with a day trip for the members of the Oldenburg Jewish community to Warffum and Groningen. Organised by Sylvia and appreciated by everyone.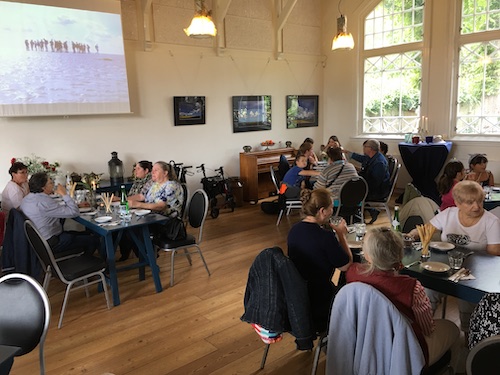 The next day we leave for our nearly annual visit to the Caravansalon in Düsseldorf. We take the opportunity to get to know Sylvia's second cousin Albert and his family, whom we found in January.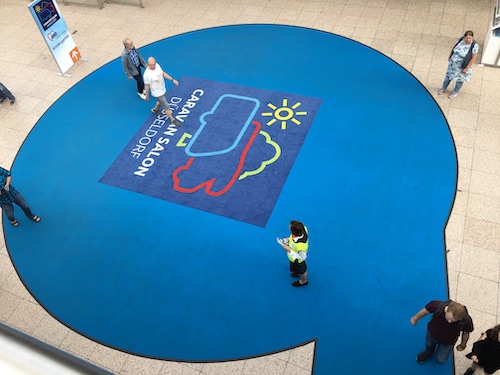 Chrissie passes away on the 8th of September. We shall miss her very much. For Ernst it is a strange feeling that he is now the oldest of all cousins. For the Workgroup Religions, Ernst gives a lecture on Jewish rituals around death in the context of the cycle "over and out?". Ernst has his annual cardiology examination: no reason for concern.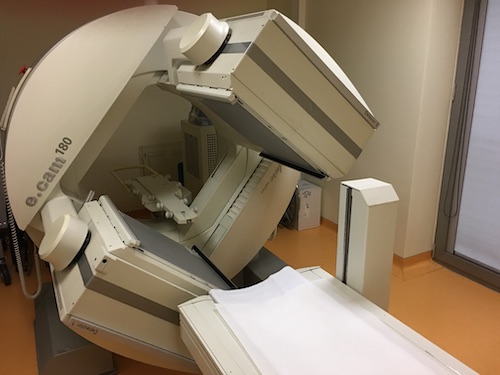 House sitter Paige from Nebraska makes it possible for us to have a festive dinner together on the occasion of Sylvia's 65th birthday. Paige will also look after Motek during the High Holidays, so that we can go to shul together. Motek is 10 years old on September 23rd.

October. An attack on the synagogue in Halle takes place on Yom Kippur. The attacker cannot force the doors, which prevents a massacre, and that is why he shoots two passers-by instead. For Ernst it means in the subsequent period a lot of extra consultation with police and security officials, thinking about more security measures and the reception of many guests who want to show their solidarity. Ernst is interviewed several times for newspaper, radio and television. The sukkah is transported to Oldenburg, built up and commissioned in the presence of the Chief Mayor of Oldenburg. The Association for Christian-Jewish Cooperation celebrates its 70th anniversary in Frankfurt am Main at the end of October. Two long train journeys, a strenuous weekend but also a visit to the Jewish museum in Frankfurt.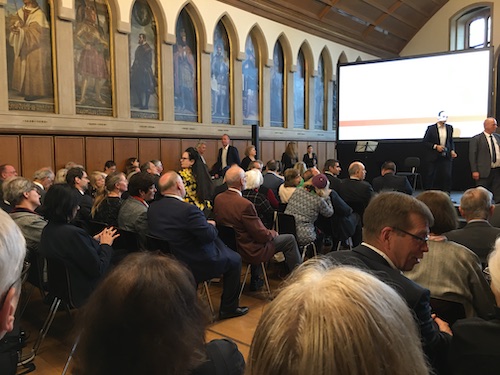 The commemoration of the Reichspogromnacht (Kristallnacht) takes place on November 9. This time with a large gathering at the Staatstheater in Oldenburg. Organised partly by Ernst, but he chooses to go to a class reunion of his high school in The Hague.

We receive a visitor from abroad on Ernst's birthday! Gerrit, a former fellow villager who remigrated to the Netherlands, comes to congratulate. During the kiddush after the service on that Friday evening, Ernst is spoiled with his favourite snacks and a huge bunch of flowers. Later that month, Ernst has minor eye surgery, which is going well. A lumbar puncture is also planned (coinciding with the memorial for Chrissie), but it is canceled at the last minute, unfortunately too late to be able to travel to England. Meanwhile, the large bus is in our shed again. We have assembled the doghouse again and put the bus up for sale.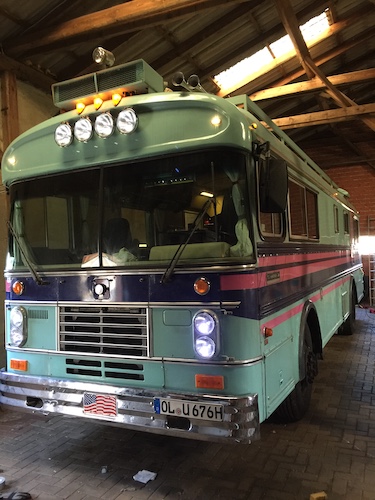 Occasionally we visit the Humanist pub meeting in Oldenburg. Ernst sees a beautiful motorcycle for sale (Triumph Bonneville America) and decides to buy it. Export from the Netherlands is no problem, but the German TÜV needs data that are not on the Dutch registration certificate. So Ernst approached Triumph in England, who hopefully will provide the necessary data.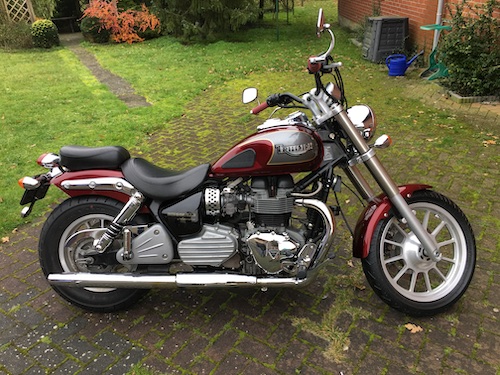 Another concert in December by the trio Yehi Shalom. Ernst is there and comes home with such enthusiastic stories that two days later Sylvia visits a repeat of the concert in Delmenhorst. Hanukkah in shul is also celebrated with a concert. Ernst has an initial consultation with a neurologist, who will prepare a treatment plan with new medication for Ernst's neuralgia. Hélène spends the night en route to Denmark and the children and grandchildren also come to visit.

All in all it was a tough year which made us think about changes for the future. We both still feel that we cannot express ourselves in German at the level we would like to. Because Ernst is away a lot, Sylvia (as a dog-sitter for Motek who can't stay alone) is forced to be home a lot. The balance between "work" and "leisure" should be a bit different for us retirees …

So, we have made a number of plans for 2020:
Ernst will end his board membership at the end of 2020
the Wanderlodge must be sold (it is unclear whether Ernst will be able to keep his HGV driving license)
the motorbike must meet its registration requirements
we are on the waiting list for a Shingrix vaccination, so that hopefully we will stay clear of shingles in the future
we bought a new house, in Friesland (northern part of the Netherlands) and will gradually move there in the course of 2020 (closer to supermarket, public transport and our Dutch family)
hence, our house in Großenkneten will be for sale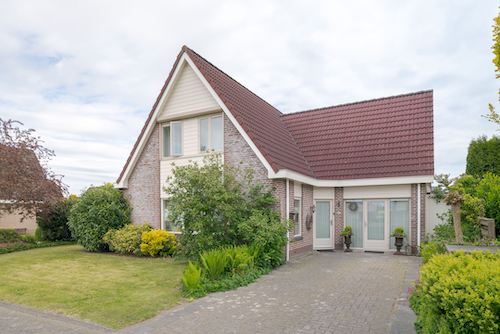 We wish you all a very good, and - above all - healthy, 2020!

Ernst, Sylvia and Motek