8 months
Met een jonge hond in en om huis hoef je je geen moment te vervelen. Dus maar weer een nieuwe pagina in wat zo'n beetje Motek's privé weblog aan het worden is...
Never a dull moment with a young dog around! So here is a new page about our little white one.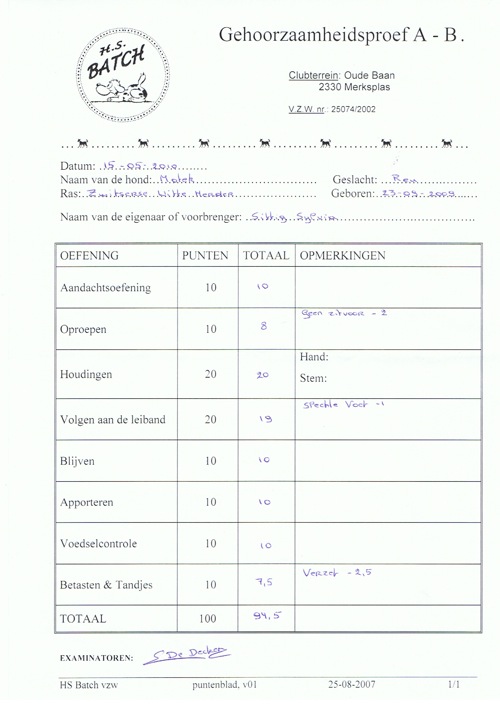 Op 15 mei bleek de wekelijkse les opeens te bestaan uit een overgangstest. Kennelijk had Motek z'n dag. Want tot onze niet geringe verbazing slaagde hij glansrijk.
May 15th Motek graduated to the next class of the dog school.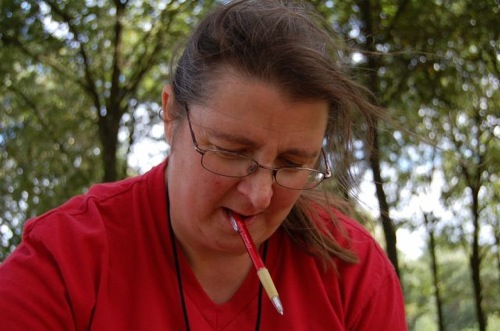 Voor Motek betekent de promotie van groep A naar groep B het afscheid (althans voor wat de les betreft) van zijn favoriete Emmy. (Foto: Batch)
No longer lessons by Emmy, Motek's favorite instructor.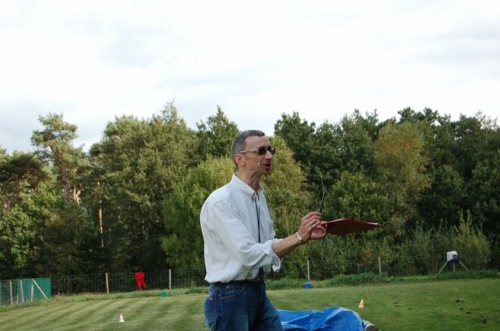 Aan Bert, de instructeur van groep B, moest Motek even wennen. Typisch voor de witjes. (Foto: Batch)
It took some time for Motek to get used to his new instructor Bert. But this is typical for the White Swiss Shepherd.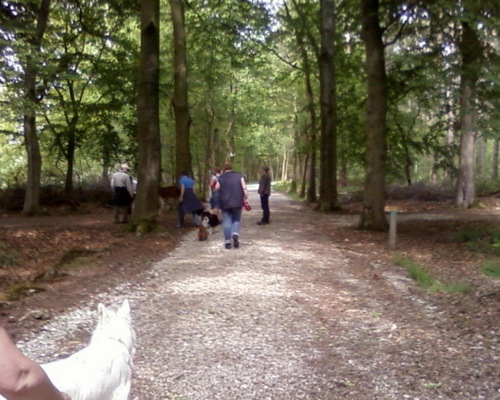 Eind mei had Hondenschool Batch een wandeling georganiseerd door de fraaie Grotenhout, halverwege tussen Gierle en Vosselaar.
Motek's dog school organized a walking tour in a nearby wood on May 29th..
Stom genoeg hadden we de camera thuis laten liggen. Deze twee foto's zijn gemaakt met een mobieltje, dus niet van geweldige kwaliteit.
Because we forgot our camera at home, these two pictures were taken with a cellphone. Hence the poor quality.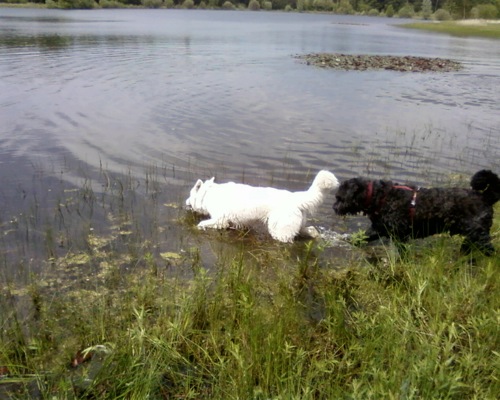 Het meertje was leuk om te drinken, pootje te baden, maar (nog) niet om te zwemmen.
A lake is good for drinking and playing. Not (yet) for swimming.

En verder is ons opgevallen dat Motek steeds vaker kleine plasjes deponeert, kennelijk om te laten weten dat-ie ook ter plaatse is geweest. Hij staat hierbij nog steeds op vier poten.
Motek just started to show adult behavior. He is putting little scent markers along his walking track, so far with all four paws down, but that seems a matter of weeks...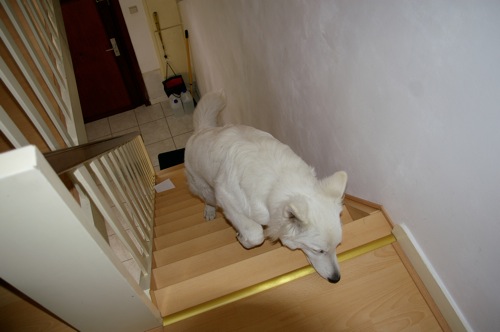 Vanmorgen waren we even de badkamer aan het opruimen. Motek stond onder aan de trap. Dachten we. Opeens duwde hij met z'n snuit de deur open. Was-ie op eigen houtje de (steile en gladde) trap opgewandeld! Dat was niet de bedoeling. We moeten nu nog beter opletten of alle deuren goed gesloten zijn.
All of a sudden Motek showed he was very well capable of walking up the stairs.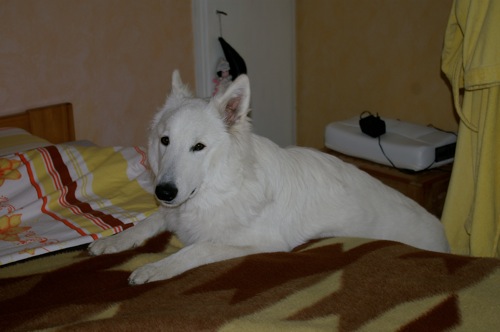 En als ik toch boven ben, probeer ik op het bed te klauteren. Je kunt aan m'n snuit zo zien dat ik héél goed weet dat dat niet mag...
He clearly knows very well that crawling onto the bed is illegal. But he still endeavors.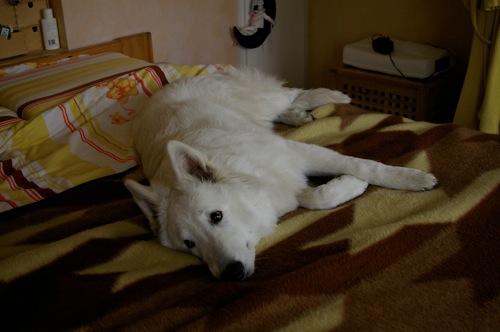 ... maar als ik me heel plat maak, zien ze me misschien niet.
If I lie low maybe they'll not notice me...
Go to top of page